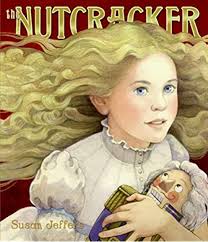 Don't Let the Christmas Season Escape Without Letting Your Young Reader Experience "The Nutcracker" by Susan Jeffers
Since, oh about the age of five, my two girls longed for one thing about this time of year.
Santa was high on the list, of course, but way up there also was a visit to Lincoln Center in New York City to see the New York City Ballet version of 'The Nutcracker."
Tchaikovsky's music was enchanting and George Balanchine's choreography was balletic and bouncy, but the entire experience of theater was singular to them in its magic.
Clothed in velvet beribboned dresses  and mary janes, they knew this was an experience to be treasured, and it was, till they became adults and then, went with THEIR own friends.
2020 and the pandemic has closed live performance on such a grand scale as "The Nutcracker" requires with performance sadly canceled.
BUT, there is still a way to enjoy its magic.
New York Times Best selling author, Susan Jeffers' picture book, "The Nutcracker," provides the perfect portal for both you and your young reader to gain entrance to the Stahlbaum's house of young Marie and her mischievous brother, Fritz, godfather Herr Drosselmeier, his Christmas Eve present of a wooden Nutcracker to Marie and the additional gift of a beautiful dream that ensues.
The Mouse King is fierce and determined along with his minions, but aided by Marie's flung slipper, he is no match for The Nutcracker.
The Nutcracker thence transforms into a handsome Prince, bestowing a crown on Marie's head before Tchaikovsky's "Journey in the Snow," plays among whirling costumed ballerinas as snowflakes, exiting in a blizzard of white (I wonder how the ballerinas can keep their footing on stage?), beginning the young couple's slowly paced and accompanying chorus to "The Land of Sweets.
What the Sugar Plum fairy unfolds to them is a series of performances, with each viewer having their favorite.
Ours was always Coffee and her controlled sinewy movements on stage. Each year we rated the Coffee that particular year.
And Mother Ginger, she of the  huge hooped skirts from which pour the Polinchelles, was always greeted by laughter as she adjusted her makeup with a mirror and powder.
Susan Jeffers', "The Nutcracker," does this edition for young readers proud.
In her Authors Note, Susan Jeffers wondered what could she bring, as an artist, to yet another picture book version of E.T. A. Hoffman's original fairy tale in which the Prince is cursed by the Mouse Queen and becomes an ugly nutcracker. How can he win the love of someone in order to return him to his true form.
Performed first at St. Petersburg, Russia,  it previewed at the Maryinsky Theater in 1892.
Ms. Jeffers mentions the theme of "The Beauty and the Beast" similarities in both of which fairy tales are rich, and that is, the transformative power of love.
She noticed two things before committing to this version. First, in other books for young readers of "The Nutcracker" the texts were lengthy and perhaps were sure to lose the attention of a picture book reader and second, the ballet portions were not included in other versions.
Ms. Jeffers mentions Lisbeth Zwerber's excellent book for a full version of the fairy tale which is also beautiful, perhaps for readers with a bit more of an attention span, as well as the famous Maurice Sendak's take.
Why not compare the three?
As Ms. Jeffers' daughter had danced various roles in this iconic holiday treat over the years, it had a special place in her artistic heart and in this picture book version, she envisioned serving it up sweetly and perfectly for your young reader.
My suggestion, as a substitute for live performance of this holiday ballet, is a quiet afternoon set aside this week with your young reader and a copy of Susan Jeffers' version of "The Nutcracker in hand, as Tchaikovsky's score plays in the background (preferably with a light snowfall swirling past the windows of your house," allowing E.T. A. Hoffman's story, Tchaikovsky's beloved music and the picture book of "The Nutcracker" to give you both a share in Herr Drosselmeir's gift of a dream.
The Land of Sweet awaits in this gorgeous rendering, and I fell immediately in love with the glistening mica glitter in the waves of Marie's hair adorning the cover of this picture book, as well as its use to grand effect on the princely epaulets of The Nutcracker that she cradles in her arms.
I love glitter!