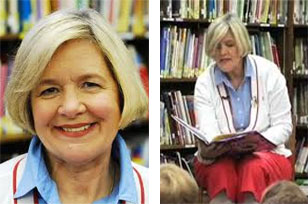 Hi, my name is Liz Shanks and I am excited to be launching my new blog, Liz's Book Snuggery. What is the name of Charles Dickens is a "snuggery," Liz? Well, "snuggery" is a word of British derivation meaning a warm, cozy, and comfortable place—in fact, a perfect place for discovering a classic or newly discovered book. This blog will include my suggestions of books for young readers and will occasionally be devoted to topics I hope will interest people who want to know more about this wonderful and important genre. Perhaps some of you, like me, have a snuggery of your own at home, a favorite place to read, relax, rest, and reflect with a book, and a favorite child to share it all. I hope you do have such a place or can create one. We all need a snuggery now and again.
Young readers' books are created to foster and expand a wonderfully simple exercise—reading. When done well, they enliven, feed the imagination, provoke thought and curiosity, entertain, teach, relax, and are life-enhancing. So much for so little—the simple investment of that most precious of commodities these days, time. Let's not leave out the added benefit of building sustained attention, a must for learning, increased vocabulary, and enhanced writing skills. Young readers' books accomplish this with an eye toward perusing and passing on what is classic and looking ahead to what is new, inventive, and exciting in children's literature.
Weighing against reading today and the simple enjoyment of a book is, unfortunately, a considerable army of activities that competes for children's time and attention. Along with many new books and authors, I hope my blog will allow readers an opportunity to rediscover a favorite classic book enjoyed in their youth, discovered anew, and now shared with a youngster.
These timeless classics have lasted for a reason. Time itself is the great leveler, refining and proving true that which is worthy of being preserved, heard, and shared again and again by new generations of readers. You must have your share of favorites that come to mind. Why not share the wealth?
There's a rumor floating around that picture books are passé, sort of like the dinosaur, and let's face it, we all know what happened to them. Bosh! I say again, bosh and piffle. Picture books are the portal for exposure and the opportunity to fall in love with books. Every child deserves and needs that, I firmly believe. Like training wheels on a bike, it affords a wonderful and wide growth curve for more complex sentence structure, sustained attention span needed for entree into the chapter book, novel, and beyond. It's the "Open Sesame," if you will, to the great treasure of becoming a life-long learner and reader for pleasure and information. No child should miss that excursion of the mind. It will fill dull days, comfort at times, awaken the imagination, and prompt that phrase every parent, grandparent, or teacher loves: "Read it again!"
Perhaps we are not spending enough of that most precious commodity—time—in the pursuit of that most relaxing and enjoyable of pleasures, reading a book. May I suggest in my blog a few books start a renewed effort toward that process—the simple enjoyment of a book? Stay tuned for my recommendations that I hope will remind you of the classics you enjoyed as a child and will reinvigorate your own passion for reading.