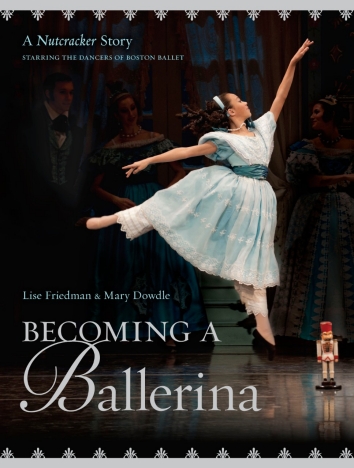 A Young Girl's Journey to Her Goal
Becoming A Ballerina: A Nutcracker Story Starring the Dancers of Boston Ballet
By Lise Friedman and Mary Dowdle
What young ballet student practicing her plies hasn't dreamt of someday walking onto a stage in December with the plumb role of Clara in "The Nutcracker"? All eyes are trained on her and her handsome Prince as they are accosted by mice, covered in a blur of swirling snow on their magical journey to the Land of Sweets.
Take my word for it, after tying on my first pair of toe shoes, you realize how hard it is to dance "en pointe". The toe is made of "steel" to support weight, though admittedly ballerinas are slender as sylphs. It does all looks so glamorous from the seats as young girls in pretty dresses, white tights and patent leather shoes, take in the beauty unfolding on the stage. I've sat next to two of them each year since they were five! We, as a family, have made a tradition of seeing the American Ballet Theater version at Lincoln Center since my grownup girls were young!  And as the years and collective performances have progressed, they are given to very earnest critiques of each successive year's cast. Will Herr Drosselmeir be adequate? How many revolutions will the lead Candy Cane pulloff, as he hops through his jingling hoop?  Will Dew Drop, Coffee and the Sugar Plum Fairy execute their steps as expressively, as compared to years past? They are very tough critics, these two!
Happily, this is certainly not a book that wants to discourage or dispel a dream for that is what Clara experiences in the performance of "The Nutcracker", the gift of a Christmas dream given by her godfather.  But it does cast a quite realistic light on the life of a young hopeful who takes a huge step on the way to her dream in winning the coveted role of Clara Silberhaus in the Boston Ballet version of "The Nutcracker".
Becoming a Ballerina does an excellent job in narrative and photography of taking the reader on the journey with the young girl, Fiona, who from the age of eight has perfected the successive roles in "The Nutcracker" of Marzipan Doll, Gingerbread Man, Mouse, Polichinelle and Party Girl. And now, in late September, Fiona finds herself on the verge of finding out if she is to be Clara herself! Your children will share in the excitement and anticipation as Fiona opens the all-important letter from Boston Ballet, notifying each girl or boy who has auditioned, the role they have won.
The authors have done an excellent job of chronicling the hard work, dedication and sacrifice at the heart of the glamorous life of a young ballerina in a starring role.
Balancing school, homework and rehearsals takes the discipline not only of Fiona, but also the cooperation of her mom, who has seen her two other daughters enter the world of Boston Ballet as well. Bronwyn, the eldest, has been Clara in two successive years and young Delia has won the role of the Black Lamb, a prize to be noted as well!
Lots of inner worries are shared as Fiona wonders whether she can aim a direct hit at the Mouse King with her slipper in the battle scene? Will she remember to pull her legs in when Drosselmeir spins her very fast in the party scene? And unfortunately, she has to wear curlers to school one day because she forgot to set her hair in ringlets the night before in the fashion for German girls in the 1800's. This must be done for every dress rehearsal and performance. Kids being kids in school with no knowledge of her role as a dancer, label her as a "weirdo". Kids, as we know, can be critical of what they don't understand. Yet Fiona displays maturity beyond her years. Add to this, a wonderful friend and dancer as well, named Farin, who always sees the upside of a down situation and is her constant cheerleader. Fiona is well supported in her life as student/dancer
Becoming a Ballerina does an excellent job of providing a window into the world of a young girl's journey to her goal of ballerina.
 Does she sometimes miss those school talent shows, birthday parties, movies and sleepovers? Yes. But somehow, at the end of the performances of "The Nutcracker", as Fiona aka Clara and her Prince ascend skyward in that beautiful painted hot air balloon, with the entire ensemble of professionals waving and the crowd wildly applauding, you get the feeling some sacrifices are definitely worth it! I'm sure young would-be ballerinas who are lucky enough to receive this book are likely to agree. Well done, Fiona!