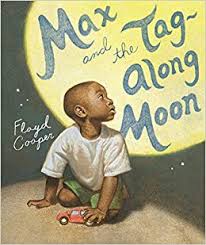 A Special Tip of the Hat to Grandfathers This Father's Day, Via Two Picture Books
From comments left on The Snuggery from a web site called A is for Aging.com, with postings by Lindsey McDivitt, I decided to devote this Father's Day blog to two picture books celebrating relationships with grandfathers.
A is for Aging seeks to cultivate through picture books, an understanding and common ground between the generations, and the enormous wisdom and experience of how to navigate life that they continue to have, and long to share… and I applaud that. This site is certainly worth a look with interesting information.
With families spread across the country and sometimes continents, it becomes more difficult to establish and maintain relationships with the older generation. FaceTime, Zoom and phone calls do make a difference, but it is a far cry from years past when multiple generations lived close by one another. Dinners were even shared once a week perhaps, and advice was only a few blocks away, if needed.
The wisdom embodied by this Greatest Generation is a treasure in and of itself, borne of their experiences with The Great Depression and World War II, calling for great sacrifice and service that was given patiently and with humor. It's my hope that these two picture books that celebrate the great gift of grandfathers facilitates a beginning of a deeper appreciation for this great gift of the generations that precede us.
After all, it is their shoulders, metaphorically, that we stand on.
God bless all those fathers, grandfathers and men who have mentored us and loved us through childhood into adulthood!
Call on them anytime! They have plenty to share with you.
My Grandpa
By Marta Altes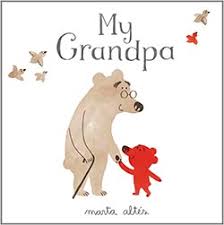 Dedicated to "all the grandpas and grandmas", "My Grandpa", is at first glance a rather unassuming look at an ordinary relationship between a bear and his grandpa. But, at closer examination, the young bear is a keen observer of subtle changes that are occurring with his grandpa.
His first sentence says it all: "My grandpa is getting old…." This bruin is also aware that sometimes his grandpa "feels alone." But that changes with the youngster's arrival! Grandpa brightens and smiles, flying the young one high above his head.
In counterpoint to this are days when Grandpa feels not so sprightly and sticks his nose in the newspaper, or in the words of the young bear, "At times he acts like a child", refusing to eat and acting, well, bearish. On some occasions he does not always recognize his grandson, but even that usually can be solved by a series of hugs.
Role reversal comes into play, as the young bear becomes, at times, the older bruin's eyes. And then the roles switch again as the senior bear points out a young bird singing in a tree, something his keen, worldly eyes have taken in that have been missed by the younger set.
These two are armchair travelers as they sit in grandpa's comfy chair and read books that have them immersed in exciting adventures they act out. And sometimes even in the midst of the adventures, grandpa can appear lost in his own thoughts.
But here is where Ms. Altes has the perfect answer to the changes the young bear cannot help but observe with these words: "My grandpa is getting old… But that's how he is…and I love him.
These words of love and acceptance it seems to me are the way to introduce our children to the aging process, and the naturally occurring changes that it cannot always, but sometimes, does bring in those we love and have shared our lives.
The positivity and compassion shown by the young bear in the picture book is a behavior we hope to model to our children in their interactions with the older generation. While life can and does change as part of the process of life, love need not. And that is certainly a learning curve worth sharing with the young!
Max and the Tag-Along Moon
By Floyd Cooper
Visits with grandpas are special occasions for most kids and young Max is no exception. He is sad when their visit comes to an end. But after a good-bye hug, grandpa says, as they both take in the full yellow moon, "That ol' moon will always shine for you…on and on!" It's a promise of a bond that can never really be severed and it's lovely moment between the generations.
As the car pulls away, the young one keeps his eyes on his grandpa till he disappears from view and then he focuses on the moon. Will it disappear from view like his grandpa or will his grandpa's promise hold true? Will it hold for the long ride home, through passing trees, up and down hills, over bridges, around fields of sleeping cows, at the mouth of a tunnel and when the tunnel opens to the light again? You bet.
As dark clouds cover the sky and momentarily hide the moon, Max's faith wavers. Where is the moon? Grandpa said… Just maybe, as he lies in his bed thinking about the promise of his grandpa, that "tag-along moon" might have gotten lost in an empty sky, filled with a covering of clouds.
But, it is worth the wait for the beautifully and softly rendered moment in this series of rich paintings by Floyd Cooper, when Max, alone in his bed sees golden moonlight flood the room.
It is the symbol and affirmation of a promise and a bond between grandsons and grandpas for generations on end. The promise is as soft as a thread of moonlight and as strong as love, for that is what is at the foundation of this relationship.
It can carry us through dark days when light is not visible and a strong hand and voice echoes in our memory. Thank goodness for these words of Max's grandpa, and the words of many others, given in support of all the Maxes of the world.
And not to put too fine a point on this subject, in terms of horrific violent events in this country both in schools and work places, their mentoring, at all stages of young men's lives, is urgently needed today.
Thank you for all the grandpas who provide this guidance and role modeling of how to handle the inevitable ups and downs of life.
Moonlight can illuminate only what love provides. This is a truly beautiful book to share with any grandpa or father figure you know. It will affirm to them their important place in the life of a young one who is just beginning the journey they have traveled. It's always good to have someone who knows the way!