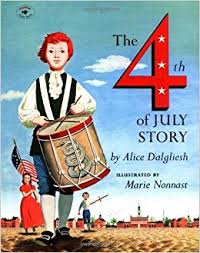 Please Do Tell Your Young Readers the Real Reason for The Big Celebration on July 4th by Reading a Great Picture Book about Courage!
If you want to introduce your young readers to the historically accurate and very interesting real story behind all the hoopla this July 4th, look no further than "The 4th Of July Story by Alice Dalgliesh, with illustrations by Marie Nonnast.
Ms. Dalgliesh's other picture books may already be familiar to parents. She received three Newbery Honor Awards for the following titles:
The Silver Pencil

The Bears on Hemlock Mountain

The Courage of Sarah Noble
Additionally, for her 1954 picture book, The Thanksgiving Story, she won the Caldecott Medal for best picture book.
Her well-deserved reputation as a "pioneer in the field of children's historical fiction" developed as she both wrote over three dozen children's books and wrote about children's literature for such publications as Parent's Magazine, Publishers Weekly, School Library Journal and the Saturday Review.
She also headed up Charles Scribner's Sons first Children's Department and was the first President of the Children's Book Council, a professional organization for editors.
So, how about that 4th of July story? I love her "Author's Note" at the outset of the book where she states:
The story of our country is a big story to tell young children. Yet, when they begin to ask, "Why do we have a holiday on the Fourth of July?" they have a right to know. They have a right to know that Independence Day is more than fireworks and picnics.
And, there, Ms. Dalgliesh, you had my undivided attention. And, I hope her book will draw the attention of your young readers, if you put it into their hands.
The New York Times Book Review no less, in reviewing her book, stated"…notable for its compactness, its readability and its sense of history in the making."
Through the colonists desire for freedom and the creation of the Declaration of Independence in Philadelphia, these words echo through her book again and again in the words engraved on the Liberty Bell that sits today Independence Hall in Philadelphia:
Liberty throughout the land,

Liberty to all the people.
The engraved words above and below that come from the Bible, I hope, will continue to be echoed not only on July 4th, but engraved within our daily lives:
Proclaim liberty throughout the land,

Unto all the inhabitants thereof.
So, on this July 4th, between the picnics, parades and fireworks, please find some time to sit with your young reader and share this timeless tale of courage, determination and the casting of fate and fortune by some very brave men, within thirteen small American colonies, to help create a new shared history that has lasted over two hundred years.
It's a great story and it's all true!