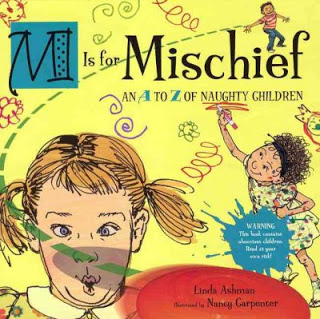 The ABCs for the Rambunctious Set!
M is for Mischief: An A to Z of Naughty Children
By Linda Ashman; illustrated by Nancy Carpenter
How do you find a picture book that teaches good behavior by showing the exact OPPOSITE in little rascals that model pure unadulterated mischief from the get go AND introduces the ABC's in the process?
Example is usually always the strongest teacher when WE model behaviors we want to see in our children such as empathy, honesty, kindness, sharing, politeness and the like. But Ms. Ashman has chosen a different approach. She shows in her alphabetically listed antics of a very anti social group of young ones, A to Z named kiddies modeling behaviors you hope your young would be reader will opt to AVOID!!
Picture book readers are probably fascinated like their older siblings with all things electronic. What about starting them out as they begin the adventure of reading and recognizing letters with a physical book. The mischievous maniacs listed here will help build sustained attention span in your child as you relate the antics of this wildly uncivil group!  
Sometimes, and the operative word here IS sometimes, the more effective way to reinforce GOODNESS is to point out its counterpart in VERY NAUGHTY kiddies. Ideally, the behavior you point out will look so awful they will roll their eyes and say UGH!
BUT, there is always the slightest of risks that these behaviors may look, shall we say, attractive and their reaction will be…Hmmm! But Ms. Ashman has wisely put a poetic caveat at the intro to her book.
DEAR READER.

 You, of course, are not the sort,

 To argue, fight, or brag.

 You're not inclined to be unkind:

 you rarely whine or nag.

 Others aren't so pleasant, though.

 Read on and you shall see.

 Here's a catalog of naughtiness.

 Presented A to Z.
Linger longingly when you read the most ubiquitous behaviors of these 26 baddies such as Impolite Irma, Joking Jackson and Untidy Ursula. Then skip quickly through the more irascible ones such as Kicking Ken, Vile Vern and Zany Zelda. But then again they're probably the ones your young one may cotton to. Twas ever thus! Nancy Carpenter's art is fresh and funny illustrating the antics of the deviant behaviors of this lot of young ones to a tee.
But if you've ever sat in a restaurant and watched a fellow diner's child wreak havoc while people attempt to enjoy their meal, you may just recognize SOME of these behaviors. I like Ms. Ashman's approach. If you don't recognize BAD behavior, how can you learn to avoid it? Kids will certainly recognize it here AND learn their ABC's from this self-obsessed group of god-awful kiddies.
Roald Dahl's "CHARLIE AND THE CHOCOLATE FACTORY" crew, famously named Violet, Augustus, Mike and Veruca are a walk in the park compared to this lot. They definitely need a trip to the factory and a visit from the Oompah Loompahs!