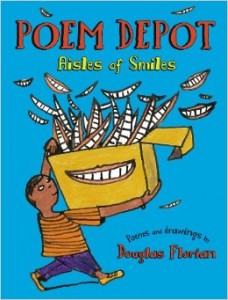 Attention Shoppers: Poetry Month Continues!
Poem Depot
Aisles of Smiles
Poems and drawings by Douglas Florian
Imagine a supermarket with aisles of poetry. Take a cart and wander up and down 11 aisles of puns, jokes, wit, belly laughs and just rhyming fun for the picture book set – and parents too! Couldn't let April aka National Poetry Month, close out without a tip of the hat to Douglas Florian's latest, called Poem Depot: Aisles of Smiles.
Poetry, and the idea of it, can set kids running in the opposite direction! Maybe that's because they haven't been introduced to the poems that tickle their funny bones first and make them giggle. Time enough for the classic side, as their tastes mature. But for now, kids are masters at enjoying the ridiculous and silly. It's a shame we adults lose that so quickly under the shoulder of adult responsibilities and the desire to be taken seriously! Serious comes quickly enough, so why not get in touch with your silly side again, and let your kids see someone that both YOU and THEY haven't seen in a while! And this may just be the book to start you down that road this April. Read the poems aloud and laugh long and lyrically – together. Or maybe if it's too much of a leap all at once, try a simple chuckle first.
Any actor will tell you it's much harder to do comedy than it is to do the dramatic. It's the timing, delivery and the language all intertwined. Mr. Florian has a gift in that regard for the "language of laughter." And in Poem Depot: Aisles of Smiles, his simple pen and ink drawings are the perfect complement to the poetry. He's smart enough to let the words stand on their own with just the right touch of whimsy in the art to set the poetry off right!
His previous books like Laugh-eteria connect with kids and the funny things that happen in a child's world. He is the winner of the Lee Bennett Hopkins and Claudia Lewis awards. And speaking of Lee Bennett Hopkins, here is a man that has done much to foster the love, laughter and language of poetry in the younger set. If you have a chance, please also take a peek at HIS books too. Lee Bennett Hopkins is "one of America's most prolific anthologists of poetry for young people", says Anthony L. Manna in the Children's Literature Association Quarterly. Try Days to Celebrate, Give Me Wings, Hand in Hand, I Am the Book, and the devilishly delicious, Nasty Bugs. These are some great compilations to whet the appetite of children for the dense compact language of poetry.
But first, just try a sample from Mr. Florian's Poem Depot: Aisles of Smiles:
                                                         Scared

 

                                         I'm scared of wild animals:

                                       Of lions, tigers, bears.

                                        I'm scared of climbing mountains,

                                       Or falling off of chairs.

                                       I'm mortified of monsters,

                                     Or each and every ghost.

                                     Next Thursday is a science test-

                                      And that scares me the most.
Can YOU relate? I can, and so will your young readers as they wander up and down the aisles of this depot filled with the sometimes silly, scary and searching world of childhood.
You'll find ME in Aisle 6: Tons of Puns. Love'em and so will you!