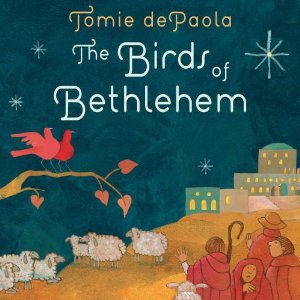 A Bird's Eye View of Christmas
The Birds of Bethlehem
By Tomie dePaola
Who better to tell the beautiful story of the first Christmas than picture book icon, Tomie dePaola.
And who better to give the retelling a very different point of view than this cherubic winner of the Laura Ingalls Wilder Award for Children's Literature, for a substantial and lasting contribution to children's literature, the Regina Medal, from (the Catholic Library Association), two Caldecott Honor Medals from (The American Library Association) and the Smithson Medal, (from The Smithsonian). Tomie has devoted a fair number of his books to religious retellings in ways that are wonderfully accessible to children. And this book is no exception.
I wanted to close out this year of tremendous upheaval and cultural change with a Tomie dePaola picture book. Tomie loved Christmas; he loved life; he loved children and was able to blend all these loves in his vocation as picture book author/artist extraodinaire.
Tomie passed on March 30, 2020.
There is something poignant about the passing of someone that I knew, not only as a friend, but also someone that millions of people that read his books, felt that they too, knew as they received a real glimpse of the soul of Tomie in his books and art.
He infused enthusiasm and excitement into everything he did. His recent Best Selling picture book called "Quiet" was the antithesis of this and one of the very few books where the pace and pulse slowed.
Tomie knew instinctively that there was a crying need for such a book. It depicted a grandfather and two children in a park with a fevered frenzy all about. The children, their dog, the birds in the trees are all in a maelstrom of active play. Beckoned by the senior, they sit and the energy slows and much needed reflection and rumination ensues. It's a book that was much needed as the young girl opines, "I can think when it's quiet." There is a wisdom being exchanged from one generation to the next.
Boy, did Tomie say a mouthful through the words of a child in "Quiet."
Here, in The Birds of Bethlehem, a grouping of feathered friends from their perches high and low, see and sense something wonderful is about to happen, something they've never seen before in the large crowds going to Bethlehem for the taking of the census. From their vantage point, the coveys duly take note and discuss the rejection of "no room at the inn" and the subsequent offer of a stable as a last minute substitute of accommodations for a certain very tired young couple.
Each bird and his mate, whether red, yellow green, brown or blue is witness and wary of the extraordinary events unfolding in front of their eyes as a gloriously brilliant angel appears in their sky and speaks those most famous of words to the eager flocks of listeners, both birds and sheep:
"I bring you tidings of great joy.

Go quickly to Bethlehem where you

will find a baby lying in a manger."
And, as the night sky is filled with angels heralding the news to a awestruck gathering of shepherds, the white bird, his mate and the bevy of birds are just as curious as the shepherds to see what the angel proclaimed. And so they do.
In a beautifully simple final tableaux filled with the figures of Mary, Joseph, the Babe and "the doves in the rafters high", Tomie has richly retold the story of the birth in Bethlehem with a fresh take that will continue to be told as long as there are picture book talents with his keen eye and insight to see things from the point of view of a child – or bird.
If you have the slightest doubt as to the credibility and talent of this most famous of authors, please listen to this quote from the Laura Ingalls Wilder Committee:
Tomie dePaola is masterful at creating seemingly simple stories that have a surprising depth and reflect tremendous emotional honesty.
Tomie's talent continues to shine in this 2000 year-old Christmas story that never grows old.
He will continue always to be in our hearts and minds as long as children sit either in laps or alone and pore over picture books with relish.
Tomie's legacy and longevity is assured.
Below is also a link to my read aloud of "The Birds Of Bethlehem."
Merry Christmas, Tomie!
You are loved!