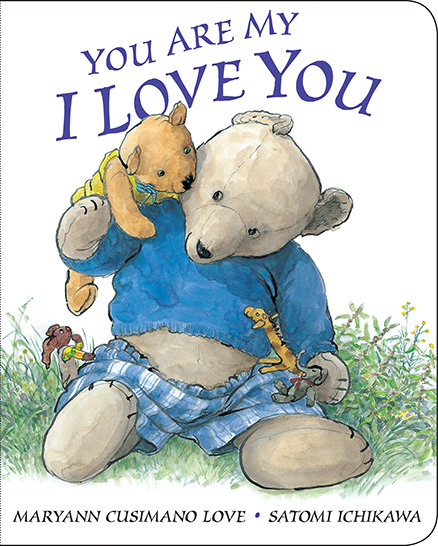 Books for Young Readers to Celebrate Father's Day, Part 1
"You Are My I Love You" by Maryann Cusimano Love; illustrations by Satomi Ichikawa
If you've ever been in the middle of an argument, or at least a heated discussion, concerning what makes a song great, the words or the music, you are in the same general vicinity of the dispute on what makes a great children's picture book.
Take that great Streisand hit "The Way We Were." Would it be as unforgettable without that rueful, haunting, dreamlike melody? Could you detach it from the two Bergmans' lyrics lamenting the passage of time, allowing us to remember things as we hoped they could have been? As a line from an old Frank Sinatra song goes, "You can't have one without the other." That's from his hit "Love and Marriage."
The same argument, for me, is true concerning the success of a picture book to speak visually and narratively in a combination that touches the heart
The unique and special blending of the right words with the perfect pictures brings the truest vision of what the writer of the picture book intends. It is a joy to look at and to read. It is the marriage of talent and technique.
Maryann Cusimano Love and her illustrator, Satomi Ichikawa achieve this marriage to perfection in the book, "You Are My I Love You".
Memories of the heart are born of simple things; this day shared by a Father Bear with his cub can easily be substituted for any parent/child interaction on a given day.  Everyday activities of each lying closely side by side peacefully on a pillow, riding on dad, horseback, creating a human London Bridge, wishing on a soft, billowy dandelion, the simple act of the every day bath ritual with its closing coda as the father bear tenderly tucks in his cub at the end of an ordinary day:
I am your good-night kiss;

you are my

I love you.
This text and illustrated combination make a sweet blending of words akin to music with pictures that lull the reader. They will create memories for children and, I hope, renew some for the parent that shares it with a child. Great read for Father's Day!