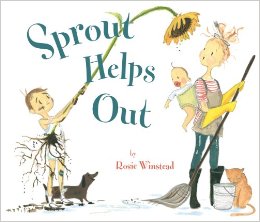 Calling All Little Helpers!
Sprout Helps Out
By Rosie Winstead
Do you have a little helper at home? It can be, shall we say, challenging at times when we moms have umpteen things on the burner, and a small voice, says "Mom, can I help?" Moms do NOT want to discourage this kind of offer, though the "help" may come in very unique ways via a very small pair of hands. And it may take a very wise and knowing adult to allow this less than perfect assistance, that may have to be redone or undone, to feel appreciated and valued. But it is worth it because trust me, as those sprouts get older, you will be begging for assistance with household chores! So why not start them early with some positive reinforcement in the desire of little ones to help.
Rosie Winstead has a keen eye when it come to detailing the story of young Sprout and her very determined attempts to help out mom with the housework, as well as Sprout's desire to become more self sufficient, as the family unit welcomes a new sibling.
Ms. Winstead's charming tale of a girl whose idea of helping out a house where order is sorely needed, includes some of the following doubtful assistance: making the bed – with mom in it, making sure her own and the dog's teeth are sufficiently brushed to pearly perfection with – MOM's tooth brush, walking the fish in their bowl as the dachshund dog trails Sprout, pining for an "out out". Her attempts at entertaining the baby are met with rollicking success, not because of Sprout's efforts as puppeteer, but only through flying teacups spilling over and living room lamps tumbling.
No job outdoors or in, is too much of a leap for Sprout as she tackles dirty laundry (watch out, tabby cat), dusting, (does blowing on the dust count?) vacuuming (oops, is that lamp fixable?), and the trail of those recyclables is a sure giveaway as to where Sprout has been!
I can relate to this mom's look as she views her kitchen floating in a wee bit of water from Sprout's desire to wash up that mound of dirty dishes.
Rosie Winstead has captured the sweetness and charm surrounding a small child's honest endeavors to "help out" and, as Rosie, herself is the 6th of 9 children, I think she just may know a thing or two about pitching in when mom seems overwhelmed, yet the author freely admits to hiding more than helping when she was a "sprout."
Enjoy this affectionate look with your young reader at "trying to help mom" in "Sprout Helps Out". And if you have a young Sprout, please do let them know how much you appreciate their endeavors. Practice does make perfect in learning a skill set, but after all, in the real world, perfection might just be very boring and very over rated!