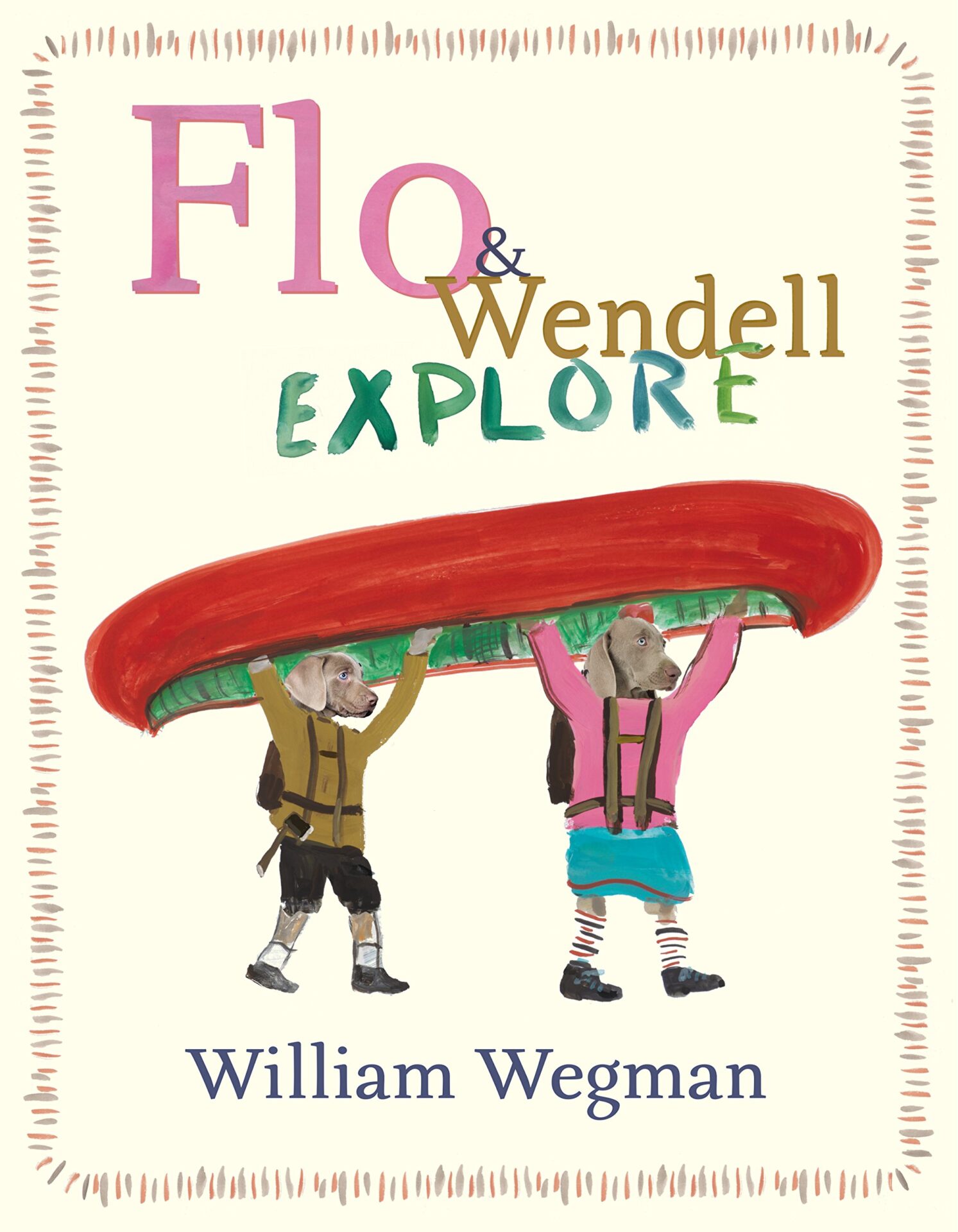 Celebrate "National Siblings Day" With Two Delightfully Different Dogs Named Flo and Wendell.
"Flo And Wendell Explore"
By William Wegman
Today is "National Siblings Day," and in this post from The Snuggery, first appearing in 2019 to celebrate National Dog Day, it also hits all the right notes for me on the differences in siblings.
They are alike and dissimilar and uniquely themselves!
William Wegman, you may recall, became famous for his whimsical depictions of his weimaraner called "Man Ray": he of the dead pan expression. I meant the dog, not Mr. Wegman.
As a side note, Man Ray was once featured on the cover of  "The Village Voice;" the New York avant garde newspaper that introduced "free-form, high-spirited and passionate journalism into the public discourse" in 1955. The heading read: "Man of the Year."
Perfect segue to a whimsical picture book on those delightfully serious weimaraners called Flo and Wendell in "Flo and Wendell Explore," by none other than the aforementioned William Wegman.
Here, in "Flo and Wendell Explore,"  which was preceded by Mr. Wegman's equally delightful first title called, "Flo and Wendell," these doggie siblings are a study in contrasts, as are many a sibling, no matter their species!
Flo is, well, a bit assertive and self-directed, and other directed too, as in directing WENDELL.
He's a fairly laid back and easy going type, where Flo is a bit of an A-type personality. And, when they go on a family vacation and try the art of camping, adventure ensues. Off they go on a RV called "Windingo" that belongs to their Uncle Mervin.
Flo has a great time during the trip, while Wendell gripes that HIS idea of a grand time is not merely driving around. Translation: He wants a chance to use his souvenir hatchet. Flo is a fixer and promises Wendell an ADVENTURE at their OWN campsite.
What follows is a good story of cooperation between siblings, where Flo initially takes charge, but learns that EACH of them have their own skill sets that, when used collectively, can make camping fun.
Kids will get a kick out of these two young weimaraners, pitching a tent, fishing, carrying a canoe in tandem, and even braving a waterfall!
Maybe they'll even see a bit of themselves and gain a fresh perspective on a sibling in the process.
Is that a bear up ahead, or merely a rock formation in disguise?
Good thing Wendell has his trusty souvenir hatchet on hand, as Flo cedes the lead to Wendell, post bear contact. Holding paws as they find their way back to mom and dad at their campsite (home), you can almost hear the crickets chirping in the night sky as they trudge back. Love that picture!
I like this book because Flo and Wendell are two siblings that ARE different, like each of your own. AND, your young readers may even recognize a bit of a pattern of subtle interplay with their own siblings. Just maybe they might learn that happiness depends on being yourself AND letting your brother or sister be that too!
It may not be easy, but it's more fun that way!
In light of today being National Siblings Day, please remember to give a call to siblings near and far, celebrate your differences and have a chat. And, after sharing this with a young reader maybe even read Flo and Wendell Explore to them.
Siblings can sometimes be verrrry good listeners!