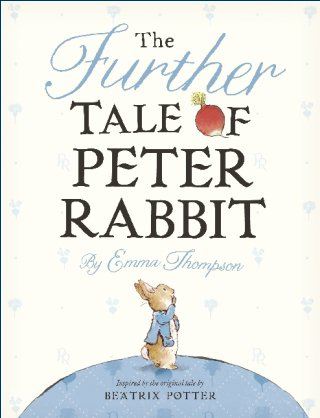 Celebrate Peter Rabbit's 110th Birthday with a New Book!
The Further Tale of Peter Rabbit
By Emma Thompson, illustrated by Eleanor Taylor
Literary folklore is literally awash with rabbits. Brer Rabbit, Alice in Wonderland's White Rabbit, the rabbits of Watership Down and the burnished with love, The Velveteen Rabbit are but a few who have entered immortality in the hearts of children via books of course and animation. But there remains one who is at the apex of this band of much read and heralded furry lagomorphs from the leporidae family (who else would tell you these bits of minutiae), and that is Beatrix Potter's timeless character of Peter Rabbit!
Did you know that Peter is officially 110 years young this year? To celebrate his august age and beloved place in the hearts of children, his original publisher Frederick Warne and Co. has added a book to the existing 23 books of Peter and company's adventures first appearing from 1902 -1930. This further misadventure has been written by actress/screen writer Emma Thompson that your children may be familiar with from her roles as Nanny McPhee and divination instructor, Sybil Trelawney of Hogwarts and Harry Potter fame.
The Further Tale of Peter Rabbit takes blue-jacketed Peter far afield of Mr. McGregor's garden. In fact, it takes him to Scotland where he is introduced to his kith and kin, namely one giant of a rabbit called Finlay McBurney. Why Scotland of all places you may well ask? Well, it was in Scotland where Beatrix Potter spent many of her childhood holidays so the connection was definitely there Your children will delight in Peter's further misadventures in this new tale that include his participation in a version of the Highland Games where he tries his paw at "radish hurling"! Vegetables never seem to stray far from this rabbit's mind. The book is a delightful addition to the legendary Peter and Beatrix Potter's cast of other picture book characters within her 23 titles.
To add to your children's further enjoyment of this 110th anniversary celebration, a site called www.peterrabbit.com has been re-launched. It's certainly worth a looksee for those of you into Pottermania, of the Beatrix Potter sort, that is. It has an interactive timeline of Ms. Potter's life, games for kids with additional resources for teachers. Your kids will have an opportunity to learn about Hilltop, Beatrix Potter's farm in England's Lake District, where she found inspiration for many of the 23 tales of Peter Rabbit and company.
And, if you're stumped on the question of when Peter's birthday is, should it ever come up in a game of Trivia, I'll give you the answer. It's Easter!