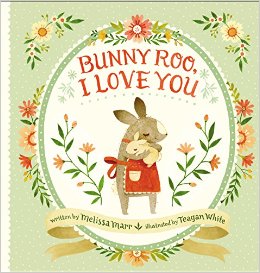 Celebrating the Calling and Commitment that Is Motherhood
Bunny Roo, I Love You
By Melissa Marr, Illustrated by Teagan White
It's a great feeling when you come across a picture book where the author's story is perfectly matched with a spot on illustrator who adds the extras of the imagined goings on, with their particular take on it. And via their art, they make it all amount to something quite special, soothing and truthful.
And in "Bunny Roo, I Love You," such a match up takes place.
Isn't it great how love just expands naturally to make room for more of the same in a family? I remember when my second child was born. The thought crazily crossed my mind for a second, "How can I love this new child as much as the first?"
But love is like elastic. Its ability to encompass more and more of itself as the need arises is quite miraculous! I can't imagine the first child without the second. Each are unique and each are loved in that widening circle.
The world can seem like a pretty chaotic and bewildering place to newborns. One minute you're in a nice, quiet and rather confined space; the next you're in the bright lights with voices and your foot hitting an ink pad!
But fortunately, on this Mother's Day, May 15th 2023, moms know their own. They know the sight, touch and smell of their own and just exactly how to soothe a small and vulnerable new entry into the world.
Teagan White's animal art, uses a combination collection of soft green, peach, cream, blue and orange hues that flesh out a new bunny, roo, lizard, wolf, kitten, and piglet in her picture book. They all have moms who know exactly what's wrong with their new arrivals, and how to both calm and comfort their offspring, keeping them safe.
One of my favorites is the wolf mom. Listen to her take on mothering:
"Then you opened your

mouth and howled, and

I thought you might

be a lonely wolf."

I ran to my

house and made

you a cozy den

so you had a home."
Ms. Teagan's sign of "HOME" hung outside the wolf den, is matched by the mom tucking wee wolfie under a baby blue coverlet to illustrate Ms. Marr's narrative.
It's an easy jump for kids to make the connection set up by Ms. Marr, to their own mom's care and concern for them as babies.
"Then you smiled,

and I knew…

You are not a

bunny – roo – lizard –

wolf – kitten – piggy.

You are my baby."
I chanced across this quote from a book called "Kindred Spirits." It said:
"A mother is a mother from

the moment her baby is first

placed in her arms until eternity.

It doesn't matter if her child is three,

thirteen or thirty."
Ms. Marr's words celebrate in picture book form, and softly enlivened by Ms. White's pastel drawings, the unbreakable connection of needs and wants fulfilled by the simple, self sacrificing word of "mother."
Please allow "Bunny Roo, I Love You" and perhaps a shared sit down read with your child of either this picture book, or some others I will suggest, to set the tone for this singular day. The operative words here are "share and savor."
Let their words start the beginning of the day that is an honored tradition of celebrating the calling and the commitment that is termed… motherhood.
Happy Mother's Day to all our mothers, both biological and spiritual, that have nourished each, and all of us, on this journey called life!
Dedicated to my older daughter; the anchor and the young one; the Bun!