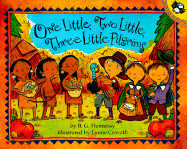 A colorful and authentic peek into early life at Plimoth
One Little, Two Little, Three Little Pilgrims
By B.G. Hennessy; illustrated by Lynne Cravath
There are probably a host of Thanksgiving picture books out there detailing the traditional history of the Thanksgiving feast, but the reason this one has such appeal to me is that kids are portrayed historically as integral and central to the host of activities leading up to the big day. And yet it is much more a book about a way of life than one day in that hardscabble life.
Besides being illustrated in authentic detail gleaned from books, Ms. Cravath had the help of the research director of Plimoth Plantation to illustrate the harvest feast. Her imagining of the harvest celebration for the Pilgrims and Wampanoag Indians (People of the Dawn), present at the first Thanksgiving, is certainly enhanced by that research. Besides it's fun to replicate the real deal with kids having an important part to play in the day to day.  Her pictures are infused with clothes, table manners, dishes, utensils and dwellings of the Pilgrims, alongside detailed pictures of the Wampanoag clothing, hairstyles, canoes, dwellings and their fishing and hunting methods.
In Notes from the Author, there is an interesting Q and A at the back of the book where kids will be fascinated by facts from the first feast. They ate FISH at the feast? What's a feast in 1621 in Cape Cod without oysters, clams, cod, herring, salmon and eels. Hey, it was one of the richest fishing areas in the world! Yes, they did have turkey, but other wild birds, ducks and geese too.
The picture book portrays an interesting blend of harvest time as fun mixed with equal measures of HARD WORK for both Pilgrim and Wampanoag young'uns. Everyone had jobs to do. Whether digging for turnips, carrots and beets, gathering nuts, berries and squash, planting crops of corn and beans with a fish tossed in the hole for nutrients. Don't make a face!  As the fish decomposed, it helped the plants to thrive!
I loved the varied tones of browns, rusts, blues and yellows that bring the Pilgrim and Indian families to life in a way that is realistic and relatable.
I say relatable in a somewhat laughable way for when families gather around a harvest table today, the dialogue runs something akin to "Hey, Mom! When's dinner" as opposed to 1621 when the chatter was something like, "Pray Miles, please set those traps for the turkey!"
But one important ritual of Thanksgiving has not changed since 1621 and that is the giving of thanks that was a routine part of Pilgrim life. The Wampanoag even had, notes Ms. Cravath, five traditional thanksgiving festivals each year to thank their conception of a higher power for their survival.
Young readers will enjoy this colorful and authentic peek into early life at Plimoth to the familiar rhythm of "One Little, Two Little, Three Little Pilgrims".
"Hey Miles, any luck with that trap?" The spit's nice and hot and the folks are getting a mite restless.