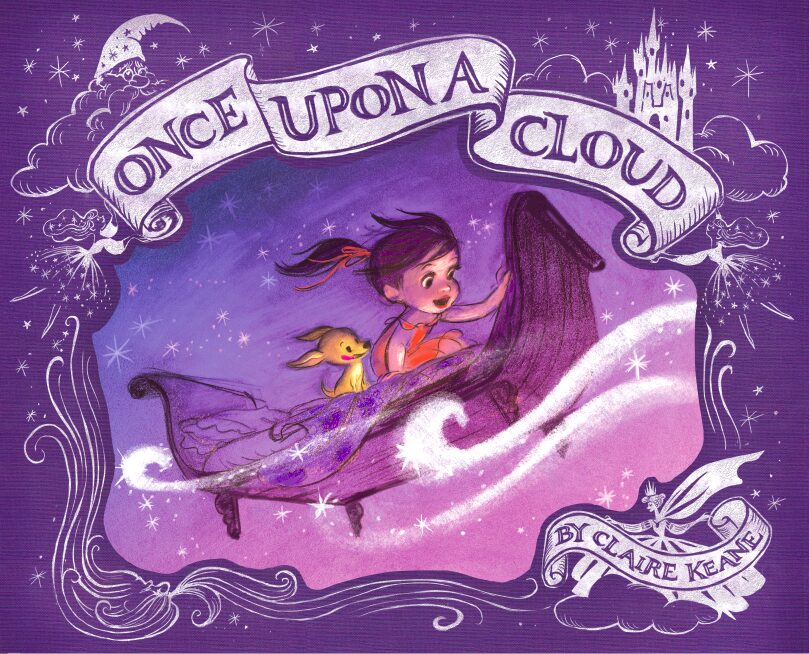 Once Upon A Cloud
By Claire Keane
What to give mom for Mother's Day? It's a question that not so big, and big children as well, ponder each year come May. It has to be special, and subliminally left unsaid by the little hands that clumsily wrap the gift, looms the question: Is it enough? Will she like it?
Celeste is on such a search. She has imagined beautifully wrapped gifts, with "To Mom"  tags attached of possible unnamed choices for her mother.
This ruminative thinking process usually precedes perfect gift selection, and here, in the middle of it, as Celeste is about to drift off, the Wind blows through her casement window – and she is off on a grand adventure.
Aloft in the fleece filled sky, she is adorned with a necklace, crown and sparkling slippers by a bevy of Stars, as if she is a long awaited guest. Even the Moon awakens from slumbers deep to read to Celeste. And as the sky lightens, the Sun, pictured as a Glinda-like figure from Oz, greets her before her journey home. 
Reminiscing about her adventure with the Sun, the Moon and the Stars, she remembers how each of her greeters made her feel special. And Celeste, in turn, as most kids do, finds her own unique way of personally conveying in gift selection, her own feelings towards her mom.
Celeste gives the gift of herself, which is what, I believe, Ms. Keane is conveying in her picture book. Celeste can give back to mom, what was modeled to her each day by her own mother.
That is what moms are. They are the givers of gifts that last a lifetime in the gifts of their time, talent, energy, sympathy, listening ear, nursing skills, patience and limitless ability to somehow "make it better."
And speaking as a mom, most of us don't need the ultimate gifts of a Bentley, Cartier watch or a home in the Hamptons, nor even the Sun, the Moon and the Stars.
Claire Keane, in her picture book, "Once Upon a Cloud," reminds us gently through a little girl named Celeste, and her dream sequence, that a small bouquet gathered with love, and tied with a red hair ribbon, represents the gift of self; the best gift on any day! For that is what our moms have given to us their entire lives and not just for one night.
Especially on Mother's Day, who could resist this similar gift of self from a child, in whatever form it takes, all wrapped up with a hug? Better yet, do it more than just on Mother's Day!
Thank you seems not half enough to say; but thank you to all the moms out there, and to my own – You were the Sun, the Moon and the Stars – to me!