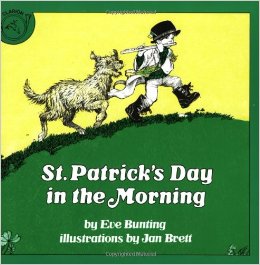 St. Patrick's Day in the Morning
By Eve Bunting; illustrations by Jan Brett
Tell me how can you go wrong in your search for a St. Patrick's Day story if it is written by an Irish lass named Eve Bunting, author of more than 200 children's books, and illustrated in the 1980's by the iconic, but early and undiscovered, Jan Brett? Answer: You can't, but I do have some other books up my Aran sweater sleeve in another post to come. 
"School Library Journal" deemed it, in its review, "…. one of very few good St. Patrick's Day stories. "Now, I don't know if I really concur with that narrow an assessment, but it certainly is one I would choose to say, "Top o'the mornin" with on the grand day. My reason would be that young readers will more than likely identify with the youthful Jamie.
But there are a trove of others that I could also recommend and will.
Jan Brett's drawings are full of richly detailed illustrations, dotted with lush emerald green, golds and yellows that tell an                                                                                                                                                                              Irish tale of young Jamie on a St. Patrick's Day morn. His wish? Simply to march with his family in the parade to Acorn Hill with flags flying, along with everyone else.
Alas, he is told he is too YOUNG!
But the juvenile Jamie and his dog Nell will not hear nay for an answer, nor will they be denied parade participation.
Instead, they commence a march all their own in the early morning light as the villagers lie abed. With his flute as accompaniment, to the very tipppity top of Acorn Hill they go.
It sort of put me in mind of a miniature reenactment, if you will, of the scene in the film, "Rocky", as the fighter climbed those multiple sets of steps in Philly, with his arms thrust heavenward at the top.
Jamie's own triumphal shout of "And a happy St. Pat's to you, sun" is no less exuberant, sweet and satisfying as he reaches his own goal – the top of Acorn Hill!
Any child that has ever been told, "You're too small to do that," will crow with delight and identification, as you relate the triumph of young Jamie and his one man parade kick off and return. He may not be stepping off down Fifth Avenue in New York on St. Patrick's Day, but it's no less a triumph for this small, Irish lad and his majority of one; two if you count Nell.
'Tis a grand tale, tis! Happy St. Patrick's Day!