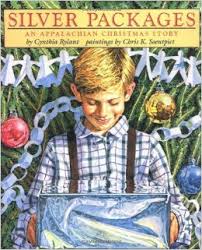 Hope sometimes comes in silver packages at Christmas
Silver Packages : An Appalachian Christmas Story
By Cynthia Rylant, paintings by Chris K. Soenpiet
Have you ever heard the phrase, "Thank you, Lord, for unanswered prayers?"
And, I might add, if you have a child at home that's a mite peevish this week because they didn't receive exactly what they longed for this Christmas, then this picture book is a must read for them and for you!
"Unanswered prayers", as I said, is the phrase that came to mind when I read this picture book that is a narrative-filled reminder of the gift of endurance and hope, and the lessons that they impart, when they come yearly, wrapped in silver packages.
It's inspired by the true story of the "Santa Train" that, since 1943, has rolled through the Appalachian hills, with volunteers giving toys and treats to the children from coal towns each Christmas.
Cynthia Rylant, accompanied by the brilliantly evocative and wonderfully light filled paintings of Chris Soenpiet, weaves her own background tale of why a train chugs through Appalachia each Christmas.
Standing on its caboose railing is a smartly dressed gentleman tossing silver-wrapped packages to coal town children whose eager faces and hands await its annual arrival.
His yearly Magi-like gift giving is the result of kindness rewarded years before, as his car had an accident in a snow storm on a lonely wooded road in Appalachia.
He is nursed and compassionately cared for by…was it Betty Pritt or Mr. Crookshank? No matter.
From this Good Samaritan deed comes the eagerly awaited Christmas train, on December 23rd each year.
Young tow headed Frankie is one of those children huddled with hope on the train tracks. His shoes are thin and his feet are nearly frozen. But he is filled with one desire that never diminishes.
Frankie wants a particular gift. He wants a doctor's kit.
As each year passes, he is disappointed as his desire for the kit is seemingly dashed when he receives toys and other necessities…holster sets and "thick red socks," a police car and brown mittens, and other things, but no doctor's kit.
Frankie waits three more years for
a doctor kit. It never comes. He gets
trucks and balls and games. He
gets mittens and socks and hats
and scarves.
But the doctor's kit never comes.
Times passes, and Frankie moves away from the hills of Appalachia. But what he takes from his time there is the memory of the Christmas train…and his realization of an unpaid debt. He moves back to the place he left years ago.
If you have children that didn't get what they wanted this Christmas, and are in a bit of a disgruntled mood over it, please read this wonderful picture book to them.
Cynthia Rylant's denouement of the now-grown Frankie's return to his hometown, waiting on the same train tracks as the Christmas train of his youth arrives once more, as he stands there and sees another generation of frantic children reaching out for the silver packages, your child's disappointment may slowly come into some much-needed realistic perspective.
The idea may dawn on them that answers to what we want may come in many ways to aid us not only to realize our own dreams, but also, in other undreamt of ways… some bigger dreams to help a wider world.
This is the message of Cynthia Rylant's Christmas book, perfectly accompanied by Chris Soentpiet's golden wheaten glow in his touches of accents in the hair, clothes and faces of the inhabitants of this tale of kindness rewarded .
I don't think you will ever look at a silver-papered Christmas package in quite the same way after reading it….nor will your young readers.
The adult Frankie's return to view the arrival of the Christmas train and his ability to help a child injured in the melee of confusion surrounding the tossed gifts, is a direct result of those life-giving necessities he received as a child that said that someone cared.
The man's silver packages were also wrapped in something else; the intangibles of hope and resilience in the face of poverty, plus the important ingredient of a continuing belief in a better future that helps keeps children's dreams alive.
Those very simple gifts made Frankie pursue a much bigger dream than a much longed for doctor's kit.
His future is born of a small child's undiminished hopes that come full circle through silver packages tossed from a Christmas train.