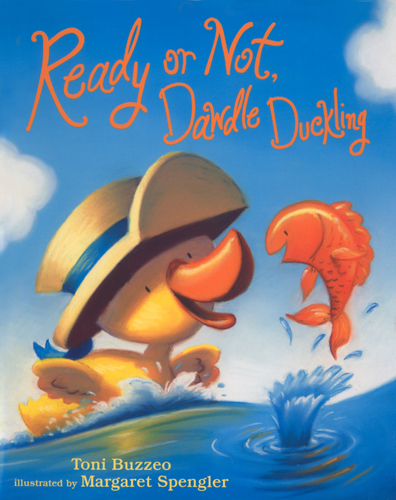 Liz's Summer Reading Pick
Ready or Not, Dawdle Duckling
by Toni Buzzeo and illustrated by Margaret Spengler
            Four ducklings, Mama, and a perfect summer day playing Hide-And-Seek-what could be more perfect for a summer read! Toni Buzzeo has captured the exuberant spirit of the sheer joy of play for its own sake in this summer read for your youngest where bright blues, oranges and yellows bring beach days winningly alive. Duckling cavort forming sand castles and cementing a series of new friendships that provide perfect "hide behinds" in this duckling game of Hide-And-Seek with Mama. A turtle, frog and fish join in the fun providing camouflage as Mama quacks, "Ready or not, here I come." The repetitive cadence of the story is sure to appeal to young readers and the pictures of the banana yellow ducks with bands of blue, red, green and orange ribbon surrounding their hats are adorable atop these orange-billed cuties. Dawdle is the duck determined to elude Mama. Will Dawdle be the duck that gets to say with unrestrained glee,
"Ollie, Ollie, in free!"

Dawdle Duckling calls.

"You didn't find me!
           Ready Or Not, Dawdle Duckling is waiting to be discovered by you and your child as the perfect intro to the game of Hide-And-Seek and the need for friendship and cooperation.