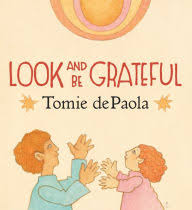 "Look and Be Grateful" by Tomie de Paola; A Wonderful Picture Book to Celebrate Earth Day.
Recently, I saw once again a movie from the 50's called "Teahouse of the August Moon", with Marlon Brando as an Okinawan named Sakini, dealing with American military occupiers, post WWII.
They try to Americanize a culture instead of appreciating its uniqueness. But just who changes whom is the thrust of the movie.
There is a line from the wily Sakini  who opines full face into the camera directly to the viewer at the end, and it hits me every time I hear it:
     Pain make man think.

     Thinking make man wise.

     Wisdom make life endurable.
Today, April 22 is Earth Day and the theme for 2019 is "Protect our Species"
It aims to draw attention to the rapid extinction of species across the world, which is directly linked to human activity which causes climate change, deforestation and pollution.
Okay, here are three things that I've linked together:
 Quote from "Teahouse of the August Moon."

"Look and Be Grateful" by Tomie de Paola

Earth Day 2019
Maybe they seem too disparate to be linked, but in my mind, no.
It's in the pain of the loss of something that we learn its value in our lives and we learn through the pain, the wisdom to be grateful for what is.
In "Look and Be Grateful" by Tomie de Paola, which has been termed "joyous and meditative," young readers are encouraged to:
Open your eyes, and look.

Open your eyes and see.

And say thank you,

For today is today.

Be grateful,

For everything you see.

Have gratitude.

Today is today,

And it is a gift,

So be grateful.
In this simple picture book, available also as a sturdy board book for very young ones, Tomie, in 2015, dedicated it "For all the children." He is passing down life lessons to a generation with a simple wisdom that can be so easily lost in the hustle and bustle of our fast forward, attention diminished, 24/7 cycle of bad news.
There is TIME and REASON to be grateful. In something so small as a ladybug or something so human as a hand extended with food, there are endless images in a day where we can STOP and be GRATEFUL for the NOW.
On Earth Day 2019, we celebrate and sense the earth with its beauty of species in amazing numbers and variety. And we need to acknowledge that both the ability and the time we have to enjoy them are finite.
They must be taken care of in the now.
Lest we feel the pain of their loss.
So please take a moment today and embrace the beauty that surrounds us, and be grateful.
Happy Earth Day!