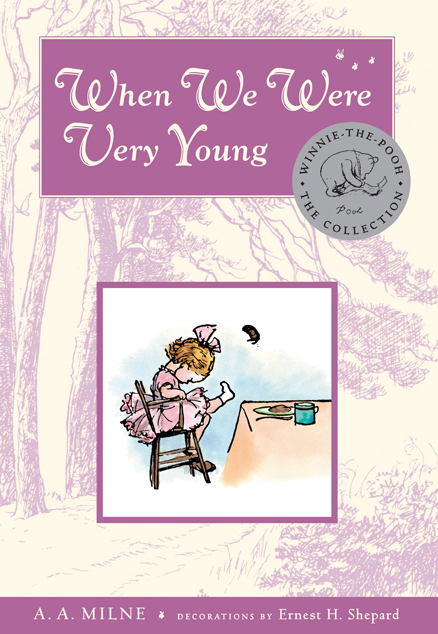 National Poetry Month: When We Were Very Young
When We Were Very Young by A. A. Milne with decorations by Ernest H. Shepard
Taken from the Winnie-the-Pooh Deluxe Gift Box and its five A. A. Milne iconic titles is his first book for children, published in 1924. As its cover flap reminds the reader, it is some eighty years since publication, yet it continues joyfully and playfully to resonate with young readers. This is as classic as it gets, and it is not to be missed. Instead, it needs to be read, savored, collected, memorized in bits and pieces, cherished and passed down. Not too strong a rave, right?
Its sweetness allows a child to move seamlessly between the imaginative and the real as Milne's whimsical verses reflect alternately a child's life experience and that of a child's imaginative play. Coupled with Ernest H. Shepard's soft-coloration scenes and figures, it is a world where a child may linger long in comfort and recognize an affinity to themes with the poetic titles of "At the Zoo," "Teddy Bear," "If I Were King," "Sand-Between-the-Toes," "Little Bo-Peep," "Little Boy Blue" and a host of others, plus my favorite, "Market Square." Christopher Robin himself will allow you to feel you are at the changing of the guard in London in the poem "Buckingham Palace." Every parent, I'm sure, can relate to the verses of "Independence." One can liken it to the softest rebuke I've ever heard to the age-old push-pull scenario of a child running with scissors and the parental DON'T! I have in front of me and am paging through the deluxe edition, and I am very young again. It is not to be missed and a grand addition to any youngster's poetry collection. Parents and grandparents take note: I promise you will enjoy the read as much as the one for whom you purchased it. I loved it and so will your little one.
As a perfect prep for the rest of A. A. Milne's not-to-be-missed Winnie-the-Pooh collection, might I make a suggestion of a very special adventure for children and their parents and grandparents who want to revisit childhood again? For those of you in the New York City area, take your little ones to the Children's Room of the New York Public Library on Fifth Avenue and 42nd Street. Surrounded by softly painted murals of Christopher Robin and scenes of the Hundred Acre Wood are the original Winnie, Piglet, Kanga, Roo, and Eeyore, with Lottie the Otter, the newest addition to the coterie, who were donated for display by Penguin Books for all to see and enjoy. For those unable to go in person, I've put up some photos of the display to whet your appetite for a future trip.
I happened to be there the day the display opened several years ago. The happiest memories for me were the looks on the faces of the children on that day. It was a window into childhood itself and the fast-closing window of wonder and discovery, driven by their imaginations. If you go, tell Winnie I said, "Hi, silly old bear."