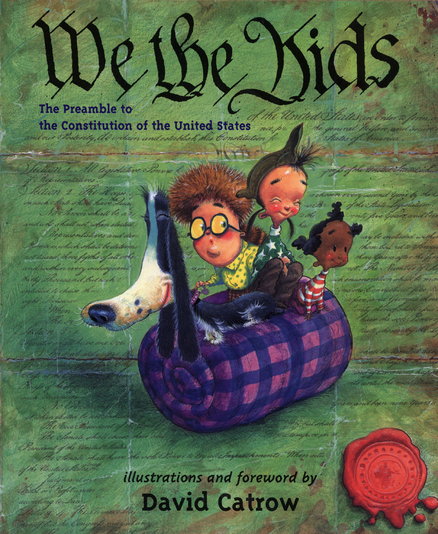 Constitution Day, September 17, 2021
We the Kids, written and illustrated by David Catrow
According to a posting on the internet, Constitution Day celebrates the "formation and signing of the American Constitution on September 17, 1787 by thirty-nine brave men."
Artist and political cartoonist David Catrow is bent on presenting "The Preamble to the Constitution" to very young future voters as a less than moldy document, in We the Kids. He emphasizes the word "posterity" used in the preamble as referring to future generations. And guess what kids? That certainly includes YOU!
His opening is a sort of glossary defining terms and phrases used in the Preamble in kid friendly terms. Remembering his initial thoughts about the Constitution when he was in fifth grade, he grumbled at why the people who wrote it couldn't use regular English. Phrases like "insure domestic tranquility" are quite lyrical, but I see his point from the perspective of a fifth grade mind.
He reminds his readers that all the men who wrote this famous document, which are, as he simply states, a set of "rules and promises", were once KIDS themselves.
He logically states one need not be a grown up to understand the Preamble and Mr. Catrow does his darndest to bring a dried piece of parchment to kid level.
My favorite illustrated phrase, "provide for the common defense", shows a forest scene complete with tent lit from within, inhabited by laughing kid campers. Their "defender", a large snouted, black and white pith helmeted dog is hidden behind piles of bunker-like sandbags as he warily eyes rodent- like wannabe intruders. Simple but effective and kids will get it.
The Constitution is a "living document". Its rules and protections permeate so much of our everyday lives. This book may be just the ticket to bring its Preamble alive for your young readers as well.
What better day to preview this book with your young reader than September 16th which is celebrated as Constitution Day!