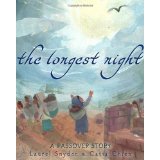 The Longest Night: A Passover Story
By Laurel Snyder and Catia Chien
Please start this book by reading the genesis of it, in the Author's Note as Laurel Snyder recalls the Seder gatherings of her childhood.
All of the rich traditions of song, the reciting from the Haggadah, and the special foods that are part of the ritual, intermixed with the smells of matzoh ball soup served in a freshly cleaned house, swirl in her recollections of Seder celebrations past. In hearing the story of the Exodus as a child, this hole in the story struck her:
Yet when we told the story of

the Exodus – the harrowing tale

of how the Israelites fled Egypt

and the only homes they had ever

known – we didn't get to hear much

about all the people who ran. The

story was mostly Moses and

Pharaoh bargaining for the lives of

everyone else.
Ms. Snyder, awaiting her serving of soup in that long ago Seder, wondered what it was like to be a child, among those fleeing in a mad rush into the desert, thousands of years ago? What was it like to be a child slave?
And The Longest Night is her answer to that imagined question.
If your child too, has such imaginings during the family gathering and celebration of Passover, perhaps this is a picture book to afford them one person's imaginative take on what it must have been like, as seen through the eyes of  a young one.
In simple rhyming verse, you meet a young girl with little to separate one day from the next:
Every morning with the light…

Came another day like night.

 

In the heat and blowing sand,

Each gray dawn my work began…

 

Spreading mortar thick on stone,

I built someone else a home.

 

All around me eyes to ground,

Other children trudged around.
The familiar story is told through the eyes of a young girl's life of labor, the plagues that descend on Egypt in stunning succession, while all the while, the young girl's Aba, or father, waits:
Strangely Aba seemed to wait

Calmly for each harsh new fate,

Sat and whittled in his chair.

I sat too, and said a prayer.
The theme of "waiting" expectantly fills this picture book, and it's a feeling that young readers may identify with quite easily.
Patience and trust are there also, as sometimes in life, one has to wait in a sort of patient endurance for the tide of life and circumstance to change, as we feel able to be sustained where we are, until the tide literally turns.
Those themes fill The Longest Night as lamb's blood is unquestioningly smeared above doors, bread is packed in haste, and seas are swept apart to deliver a new path to freedom and a new life:
Walls of water all around

Made a giant rushing sound.
Change is in the air as the young girl senses they are running from something, yet also, to something new and different.
Pure joy awaits in this something:
To a sky so wide and free,

Full of light and room to be.

 

To an endless sunrise spread

Pink above us gold and red.
And artist, Catia Chen, has done a fine job in her illustrations of capturing the somber colors that reflect the mood of slavery, through the dogged endurance needed to survive the plagues, to the joyous rosy hues of freedom on the other side of the journey.
The Longest Night is a picture book history lesson of one of the oldest stories of patient endurance and trust, that led to victory.
This dark-night-to-dawn story of a child enmeshed in an historic freedom walk event, is a fine introduction to the Passover journey for a young reader of any faith.
It employs a sort of technique used in Bible Studies, where the reader is encouraged to imagine oneself in the biblical event, then try to sense what the sights, sounds and even smells of the event, might have felt like…to them.
Ms. Snyder has offered this approach to fine effect, so that young readers, having read it, may sit down to their own Seder meal this Passover with a more personal take on events that occurred thousands of years ago, yet may be remembered, after this reading, with a more personal and reflective reverence, today.