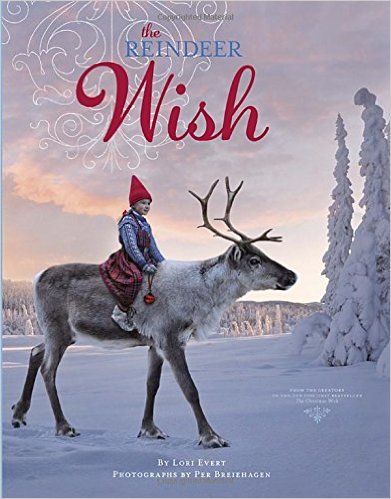 A Real Norwegian Christmas Story: Part 2
"The Reindeer Wish" and "The Tiny Wish"
by Lori Evert
       Just be kind and brave.

That's all you need ever be.
These words are a sort of mantra for the previous journey of young Anja in "The Christmas Wish." And, as a matter of fact, they serve her, and any young reader, in pretty good stead for life in general.
So, if your young reader enjoyed Anja's adventures in "The Christmas Wish," then perhaps the added "The Reindeer Wish" and "The Tiny Wish" may also interest them.
The first finds Anja and a reindeer bonding as close friends. But what happens as the reindeer grows, and she realizes his best future involves being set free? Or is there another more wonderful choice and solution to letting go of a pet? Hint: The answer involves Santa and his sleigh!
Next, think of the famous and tiny Thumbelina, "no bigger than a thumb," or even "Alice in Wonderland," at times.
Here, readers will at first meet an older, and surrounded in summertime, Anja.
But, will she stay that way? Think height as a disadvantage involving a game of hide- and-seek with cousins. Will it cause Anja to wish for elfin smallness that will lead the maturing Anja on another adventure, not solely of self-discovery, but including a beautiful world of animal friends that help her? What do you think?
Anja's real parents, designer Lori Evert and photographer, Per Breiehagen, help make their daughter's Christmas and summertime adventures come alive both in word and some beautifully realistic images for your young reader.