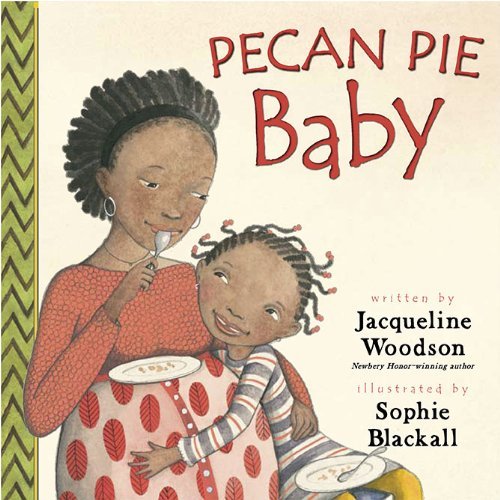 A Realistic Look at a Growing Family
Pecan Pie Baby
By Jacqueline Woodson, illustrated by Sophie Blackall
Change, one of the constants of life, is about to pay a visit to young Gia and her family with the arrival of a sibling in the not too distant future.
As the leaves of summer begin to fade and fall, winter clothes are naturally pulled out in advance of colder weather and it's easy to see that Gia's clothes have outgrown her. Out with the old and in with the new, as she contemplates the appearance of the "ding-dang baby" as Gia christens her or him whenever talk of the baby begins, which seems to Gia, most always.
Jacqueline Woodson, author of a Caldecott Honor winner for her poignant picture book on separation of parent and child in "Coming on Home Soon" has, in "Pecan Pie Baby", given us a realistic look at the doubts of a first child as a second arrives. It is a sweetly comforting and reassuring look at the dynamic that plays out in a family household that naturally seems to center itself on mom and the coming arrival of that "ding-dang baby."
With the trees now bare limbed, Gia wonders how long she will have the luxury of her mother's sole and undivided attention? In other words, when will the baby arrive? Probably with the arrival of the first snow, her mom assures her, and that finds Gia with crossed fingers, wishing for a winter without the frosty flakes!
Is there anything these three could share a love for? Sure is. It's pecan pie, evidenced by the baby's movement whenever Gia's mama eats pecan pie!  Isn't it just like that "ding-dang baby" to be a copycat where food is concerned?
There seems to be no escape from talk of the coming blessed event as Gia is reminded at school with discussions such as ("You want a boy or a girl?"), plus sleepover chatter beginning with ("Your mama better not put that baby in my bed, right?") and even aunties that formerly had plenty of time for a Sweet Tea and Toast Party, now scurry off with a quick cuppa to talk about the baby with mama.
Cousins arriving with wiggly, fussy babies of their own do nothing to reassure Gia. She is reminded with each drop of the bare leafed trees outside that alone time with Mama "drinking hot chocolate and telling silly stories" is about to change.
Gia's outburst at the table, when plans for the baby reach a fever pitch, brings a wail of "I'm so sick of that Ding-Dang Baby!" Whoa! Quiet descends like a truckload of snow.
Ms. Woodson has captured the perfect emotional pitch of a child's feeling of aloneness as she contemplates a future where mama has to be shared.
The author is able to fully enter into the feelings of both mother and child as the time nears for the new arrival. Mama too will miss the intimacy of life shared before the new addition. But there are always compensations.
Mama reassures Gia she will be the one that will have to tell the new arrival about life in the "good old days".
Gia will be the one to share the story of slices of pecan pie that in the future can be shared by three!