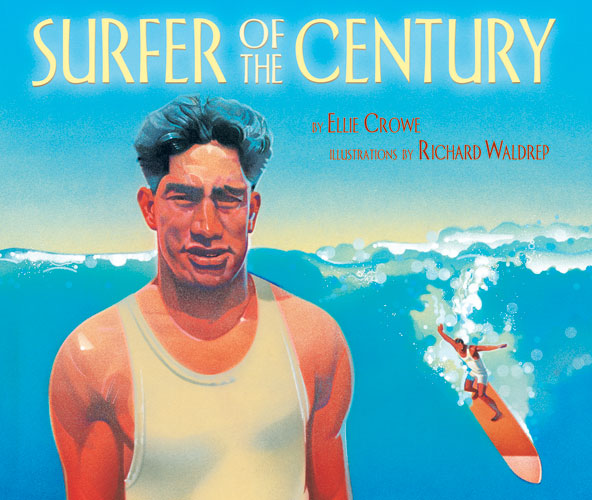 A Story That's Worth the Ride!
Surfer of the Century
By Ellie Crow; illustrations by Richard Waldrep
One of the reasons that I love writing about picture books is the element of discovery. Sure, there are books that I personally love and want young readers and their families to discover and enjoy.
But, every once in a while comes a picture book that I get really excited about and wonder how it eluded me. Sometimes, it's the narrative; sometimes the art, but always it's the discovery of a story or a person that leads me to say, "How did I miss this one?"
"Surfer of the Century" is such a book. Ellie Crowe uncovers for young readers the true story of Duke Kahanamoku. And Richard Waldrep's definitively drawn water-colored paintings bring Duke and his journey, boldly to life.
It is a story of overcoming odds with fierce and quiet tenacity in this young Hawaiian's struggle to become an Olympic competitor multiple times in swimming. It is an inspirational story, and I know it will be that for any young reader or parent that turns the pages of this uniquely told and illustrated story.
Duke also became one of the great surfers in history that helped put the sport on the map. But more than that, he had the talent, technique, tenacity and timing to put it all together to set and win Olympic world shattering records in swimming.
In 1912, and 1920, he won gold in the 100-meter freestyle. He would have competed in Berlin in 1916, but the Olympic games were cancelled because of the World War.
One of my favorite stories in the book is one that surely teaches what sportsmanlike conduct is all about.
Duke showed up late for his event in the 1912 Olympic Games held in Stockholm, Sweden: the popular 100-meter freestyle. He overslept! All hope gone? Training wasted? Maybe. But who speaks up to the unsympathetic Olympic official in order to allow Duke to compete?  Cecil Healy does. He was the then Australian star swimmer and Duke's chief competition! Cecil refuses to swim unless Duke is allowed to compete in the true spirit of competition.
Will the official relent? Will Duke be allowed to compete? Will he win? Will Cecil?
And how's this for something the Beach Boys could have written a song about? In 1917, Duke rode a humongous wave, called a "Bluebird" that rose thirty-two feet far out in the ocean, on Waikiki Beach. Duke rode it for one and three quarter miles!
Did you know that in 2002, a Duke Kahanamoku commemorative stamp was issued by the United States Postal Service?
As summer draws to a close, if you and your young reader are taking one last dip in the ocean before the leaves begin to fall, ride a boogie board or surf along, and perhaps end the day with a read called, "Surfer of the Century."
Duke's story is worth the ride!