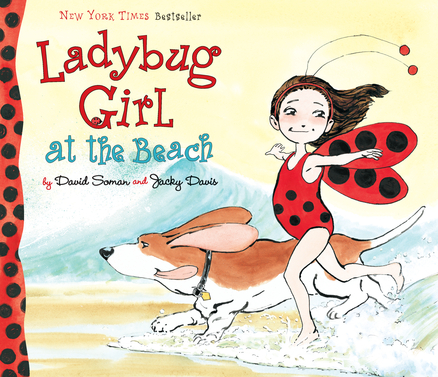 Take a Dip with Ladybug Girl!
Ladybug Girl at the Beach 
by David Soman and Jacky Davis
If you're looking for summer reads, look no further than the creative husband and wife team of David Soman and Jacky Davis, the couple who brought Lulu, aka Ladybug Girl, to the forefront of the New York Times Children's Bestseller List.
Why not introduce your child to Lulu, the stalwart heroine of these recognizable "every child" reads in which both parent and child may happily find a piece of their own childhood experiences in the process. I did.
As Memorial Day passes, the kick off of a summer season stretches as far as a young child can see and there will be plenty of free time for adventure and new experiences. Some may include favorite places like the beach, offering sun, sand and rolling waves to wiggle toes in or body surf on a boogie board.  Enter Lulu.
Lulu's predicament at the beach, accompanied by her faithful basset Bingo, conjured up memories of my initial childhood experiences with the ocean. "Getting To Know You" might be the tune most reminiscent of my own tentative introduction to the beach and the contiguous BIG ocean.
It is very HOT on the beach as Lulu soon discovers. But, there are also many interesting shells and marine life to explore, not to mention the building and digging of anything involving sand.
BUT, inevitably the water beckons tantalizingly. It can be noisy at times, rough and unpredictable. Hence, for some children, as with Lulu, the fear factor arises. Dare I? It looks like fun. But, can I face my fear and, once faced, overcome it? Lulu's alter ego, Ladybug Girl, is fully up to the task; just not all at once.
How, on her own terms, Lulu confronts her fear and learns that most difficult of childhood lessons; learning to love the very thing one dreads and to trust bit by bit, a toe at a time, is a great summer read parents and children can share and enjoy. Both of you will find yourselves rooting for Lulu and, perhaps recalling fondly your own family trips to the beach. PLEASE make mine a DOUBLEDIP cone at the ice cream concession stand! Hint: eat fast; it melts fast.
If you enjoy this adventure, you may also enjoy the following: "Ladybug Girl," "Ladybug Girl and Bumblebee Boy" and "Ladybug Girl and the Bug Squad." Whether it's a story about saying you're sorry or the compromises needed in friendship, pack the Ladybug Girl series in a tote for good summer reading.  Lulu and Bingo are a loveable dynamic duo!