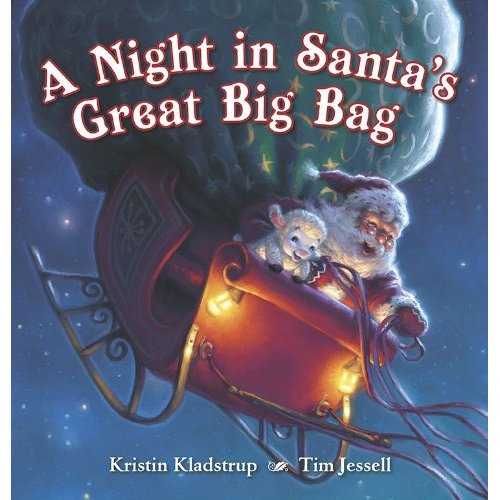 A Night in Santa's Great Big Bag
By Kristin Kladstrup; illustrations by Tim Jessell
Every writer is usually given the age-old advice, "Write about what you know."
Ms. Kladstrup has done just that and more in her sweet Christmas book that had its origin in the toy lamb of her son, received as a present and according to her, " developed a great curiosity about the world".  "A Night in Santa's Great Big Bag" is the natural Christmas time evolution of that curiosity and Lamb's opportunity to have a grand adventure. Who could resist?
If kids are nervous about whether Santa will bring them the toys on those prolific Christmas lists, imagine for a moment, if you will, the feelings of the toys as they journey aboard the most famous of sleighs on Christmas Eve?
Might they have a bit of trepidation about their new homes and owners coupled with a bit of performance anxiety to boot? A Night in Santa's Great Big Bag serves up the story of young Louis, his favorite toy, Lamb by name, and a spur of the moment decision by Lamb to creep into the cavernous innards of Santa's toy bag during Santa's stop at Louis' house on Christmas Eve. What's that quote? "It's the things left undone you regret". Lamb is not about to fall into that category. He's going to have a go at the ride of a lifetime!
Meeting toys that have a case of nerves about their ability to please the children they will meet for the first time on Christmas morning, Lamb is all about the "teachable moment". After all he has all night to gently instruct and inspire confidence among his eager toy listeners in Santa's bag. Lamb teaches backhoe trucks how to alternately shovel and dig, puzzles pieces how to reassemble when separated and the precise method for trains to use to corral the rest of the company of cars into following the leader.
But wait, as Santa's bag gradually empties and Lamb is left solo, a worrying thought appears. Will he be delivered to a strange house or will he return to the warmth of snuggling again under the covers with his beloved Louis? What do you think? Ride along with your children, Santa, Lamb and a host of nervous toys eager for welcoming arms to embrace them on Christmas morn. You are all in for a sweet ride!