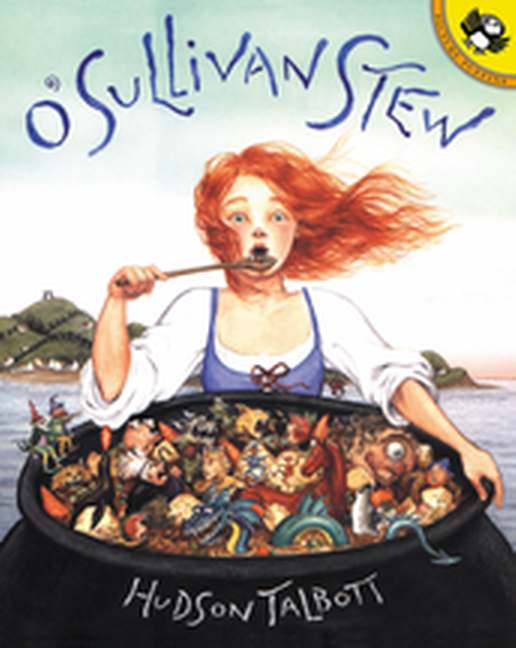 "O'Sullivan's Stew" by Hudson Talbot is Perfectly Served Up for St. Patrick's Day.
March 17th has always been a day of celebration in my family since my own childhood. Children, capricious at times, and quick to delight in the new, the creative, and the off-beat, (if my children's growing-up years are any indicator), they also take great comfort in the traditional, the predictable, and the routine.
The slogan "That's how we always do it" looms large in our family on the Feast of St. Patrick!
Half-Irish from the genetic pool of Selena Monaghan wed to Charles Hart, my paternal grandparents, the day of the seventeenth of March is filled with "musts."
Starting with the traditional corned beef cabbage, boiled potatoes and Irish soda bread, served on Irish Belleek porcelain, passed down from my in-laws, the day ends with the comfort of a most beautiful paean to the Irish class of characters and countryside, woven with its colorful characters played with actors straight from the Abbey Theatre.
Bound all together by the sureness of the tender and touching hand of director, John Ford, and the indelible performances of John Wayne and Maureen O'Hara, it's a classic to be savored along with the dinner.
The movie was very much a family affair, as John Ford's brother, Barry Fitzgerald's brother, Maureen O'Hara's sibling and John Wayne's children, all had parts in the movie.
Of course, I speak of that luminous classic emerald movie gem called The Quiet Man…which, truth be told, is anything but.
"A good stretch of the legs" as the Irish say, on a "soft day," which as the Irish say, is a gentle misting rain, might be put to good advantage, if you've a mind to, with a trek to a bookstore for some children's picture book Irish selections to mark the day and add to the enjoyment.
Everyone loves a good story, and few may rival the Irish in that department. The weaving of the fanciful, the hilarious, the frightening, and the satisfying, into one seamless Irish garment is a treat not to be missed.
What follows is a tale to bedevil a pooka himself (an Irish fairy full of mischief and misdeeds). It is a window into a culture thriving on the vitality of the spoken word and the delight felt in the telling and retelling of its ancient sense of the unseen world…. and their relatives!
Hudson Talbot's tale called "O'Sullivan's Stew" is a fine example of the above, as even "Publishers Weekly" opined:
"Visually and verbally inventive in its details and its broader storytelling, this one is a shiny shamrock."
Yes, Irish heroine Kate O'Sullivan is the perfect weaver of Irish knits and tales in Hudson Talbot's four-leaf clover of a book called "O'Sullivan's Stew."
The dilemma, precipitated by the retrieval of a witch's horse that is confiscated for taxes due the king for Kate's hamlet of Crookhaven, stirs the pot and starts the stew a boilin'. And what a stew and story it is!
Never provoke a witch into a hissy fit, for if you do, a series of events of empty fishing nets, cows ceasing to give milk, dying gardens, and heavier than usual rains will befall your town!
Saints preserve us if you've gotten on her bad side!
Kate, her Da Seamus, and brothers Kelly and Fergus, aim to retrieve the beast, but are caught in the act. The king's query to the group, "Have you ever been in a worse spot in your life?," brings forth a reciprocal challenge from Kate. Her storytelling prowess rivals the famed Scheherazade, who likewise saved her own life with spun tales.
Hey, that's another book to put on the list for another day! I digress from Kate. If within each of the tales she weaves, the person in the story is in a worse situation than Kate's family, they may go free. Quite a task she has set for herself.
But, in Kate, Mr. Talbot has created no ordinary tale teller. Here is a sampling of Kate's verbal virtuosity : A series of sneezes saves Kate from an unplanned wedding to the King of the Leprechauns, seals magically morph into girls who save Kate's brother from sea monsters, predatory cat and wolf fur is gathered from the base of a tree after "the fur flies," so to speak, and the detritus is spun into a sparkling, stunning kelly green shawl, and finally, a father's answer to a cry for help from a young woman whose baby is potential dinner for a giant, brings the stories full round. Whew!
Plot twists abound at the close as the banner hanging over Crookhaven's celebratory feast announces: "Everyone is one of us" as townspeople, as well as witches, are forgiving here in Eire.
And just when you think you're sure of its direction, Kate's tale veers off into the Irish mist and uncovers as fresh a piece of original storytelling as a shiny Irish half penny.
May I just end with actor Victor McLaglan's contrite apology, via a blessing, as he has been the cause of a town wide donnybrook.
"God Bless All Here."