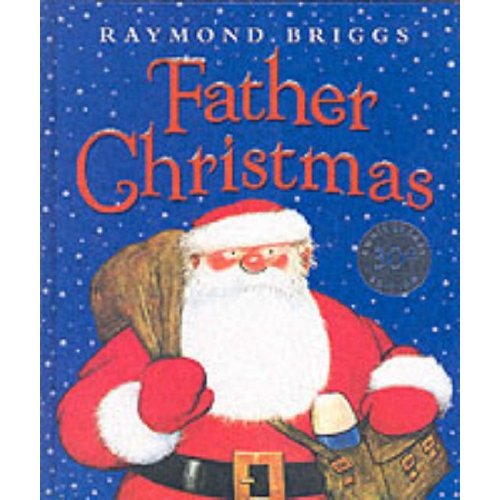 Way Back Wednesday Essential Christmas Treat
Father Christmas
By Raymond Briggs
Raymond Briggs' very British Father Christmas is not your typical Santa. Briggs' Santa is not fashioned after political cartoonist Thomas Nast's vision of our modern Santa appearing in an 1822 Harpers Weekly. Nor does this Santa even resemble the famous Coca Cola renderings of Santa by artist Haddon Sundblom who fashioned his in alignment with Clement Clarke Moore's Santa in the famous "A Visit from St. Nicholas." No, this Santa is definitely a one of a kind who is kind, but does not take delight nor jump for joy when he sees the calendar page read December 24. His take is a terse, "Blooming Christmas here again!" He is definitely a bit of a curmudgeon!
He may be plump, but this is not a "jolly old elf". He's grouchy, testy, a tad irascible, very human and prone to complain about the "blooming cold and "blooming snow" and quite a few other annoyances to be endured on his 24 hour flight round the globe. This Father Christmas' dreams are filled not with snow, but rather his rotund and tanned body, wearing dark sunglasses, luxuriating atop a chaise lounge on a sandy beach! Makes sense, right?
The delightful cartoon strip format of Father Christmas makes him entirely likeable, while at the same time gives kids the distinct impression with its labor intensive Christmas Eve, that there is a great deal more work to being Father Christmas than merely wearing a festive red and white costume ! Briggs was a cartoonist, illustrator and graphic novelist whose mother and father were employed as milkman and lady's maid respectively, so there's a definite feel of the hard working middle class work ethic afoot in this Father Christmas.
Yet Briggs' Father Christmas, winner of the Kate Greenaway medal for outstanding illustration, is totally endearing, original, and totally accessible to any young reader who may quickly empathize with this British Santa who, with loving pats and a "Goodbye cat, Goodbye dog", followed by a "Keep still you silly deer", is dutifully off on his ritual ride.
Kids may gain a new appreciation for this hard working Santa as Briggs' Father Christmas is shown edging down sooty chimneys, fortifying himself with respite meals consisting of sandwich, apple, banana and cocoa from his rucksack on a cold, snow filled rooftop, tripping in darkened houses over house cats, wrestling with TV aerials (kids may ask, what are they?), puzzling over how to enter a camper from its roof, and pronouncing a lighthouse a "daft place to live"! This is a Santa who is altogether funny, honest and endearing. Parents will enjoy the trip with Father Christmas as much as the kids. He's a hoot!
With his last stop Buckingham Palace and a quick comment of, "Good! The flag's flying. They're in", this droll Father Christmas is ready to pack it in after visiting the royals!
Home again and following a sudsy hot bath, he labors lovingly over a perfectly prepared meal (he's a superb cook – even to the plum pudding!) and pronounces it "Lovely grub". Bidding his companions a "Happy Christmas cat!" and "Happy Christmas dog" with gifts to each, this blue striped pajama clad tucked in Father Christmas turns, faces his young reader, and with a slight scowl, belts out "Happy blooming Christmas to you, too."
Blooming lovely book to share with kids at Christmas!