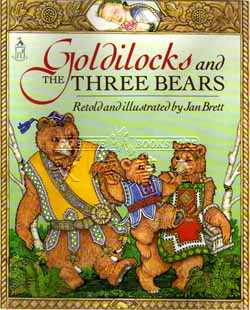 Way Back Wednesday Essential Classic
Goldilocks and the Three Bears
by Jan Brett
I have a sneaking suspicion that I have a clue to WHY bears hibernate. My reasoning stems from the recent winter storms that have wrought havoc with school schedules, retailer's sales totals and just plain getting to work each day. Bears seem to have the easy solution and a unique way to jettison the jangly nerves brought on by weeks and weeks of battling snowstorms and clearing off cars and driveways. The answer is to peacefully sleep away the winter. That way you awaken to the beauties of springtime in good humor.
Jan Brett, in her unique telling of this ageless forest tale of that famous home intruder, Goldilocks, begins the telling with the bears fully awake and off for a jaunt in the woods as their breakfast porridge, delightfully laced with roasted nuts, honey and berries, cools.
The charming cottage Jan has envisioned where the bruins dwell is filled with such rich detail of design that I wish I could put my reservation in right now for a weekend getaway there – if the bears allow their cottage rented out. For instance the porridge bowls that Ms. Brett fashions for the bears are not the ordinary bowls with dings that you or I might toss into the dish wisher! These are exquisitely executed like small soup tureens with tops. Bear motifs of alternating brown, black and polar bears adorn each one. They are sweetness times three!
If these bears do not EAT from ordinary bowls, they certainly do not SIT in run of the mill chairs. The bears seating selection consists of one rough hewn, leather lashed style, with wild egg shells perched atop its back boards, a tufted and tasseled affair, and the smallest, a intricate hand carved delight. Miss G smashes that one to smithereens. Perhaps young bears weigh LESS than young blond house intruders, or at the very least, sit more carefully!
And the BEDS – oh the beds. All I can say is that I so wish SOMEONE would fashion a bed of wood for me with pinecones on the four posts and 2 carved bears each on the head and footboards. Heaven!
BUT, there is always a time of reckoning in this story as the bears return to find their porridge tasted, their chairs sat in, with one demolished, and the intruder asleep in the smallest bed. It has the cutest hedgehogs on its posts. Aww! Awake and aware of her hosts' return; Goldie skedaddles without so much as a thank you. Maybe she wrote them a hostess note later or at the very least sent a basket of berries and honey, but somehow, I doubt it. Oh Goldilocks, where ARE your manners?
Jan has infused the magical borders of her version of this famous fairy tale with forest life, replicated in carved versions of flowers, mice, mushrooms, bee hives, strawberries, butterflies plus intricate frames that I wish could be replicated into moldings for a house not just for bears.
Jan's eye for detail is unerring and the feeling she brings to this telling is distinctly "Brettian" in its warmth and wonder.
If you must choose one picture book version, and there are many, to introduce your young reader to Goldilocks and the beleaguered three bears she bothers, let Ms. Brett's be the version you choose. It is a world away from any other.