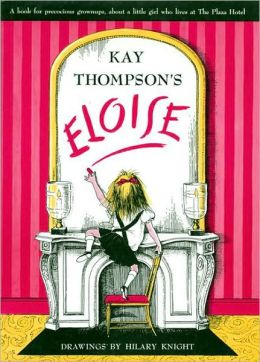 Way Back Wednesday Essential Classic
Eloise
By Kay Thompson; drawings by Hilary Knight
Have you ever taken young ones to The Plaza Hotel in New York? If you have, please take a peek with them of the portrait hanging there of a diminutive "force of nature" of picture book fame named Eloise, from the book of the same name, written in 1955. Maybe you've seen it. The portrait  is one of a young sophisticated dynamo, dressed in signature black pleated skirt, ruffled white blouse, her tiny feet shod in black patent leather shoes, with white knee socks. Young Eloise seems the stuffy soul of decorum with her trademark red bow atop pin straight hair. Decorum?  But then I must presuppose you haven't read the book detailing the days and nights of this pint sized human whirlwind and world traveler to Paris and Moscow that calls the top floor at The Plaza home, along with Nanny. Boring, she ain't, if you will please pardon this horrible slip in grammar. Eloise is anything but boring, nor can she stand to be bored.
Maybe you've seen TV versions of Eloise. They date back to a live black and white TV version in 1956 on Playhouse 90 with Evelyn Rudie as Eloise. Young Ms. Rudie won an Emmy nomination nod for her performance as the precocious Eloise with the famous Mildred Natwick as Nanny. In more recent years, Eloise at the Plaza and Eloise at Christmastime were done for TV with Julie Andrews as Nanny. Most recently, an animated series entitled, It's Me, Eloise with Lynn Redgrave as Nanny and Tim Curry as Mr. Salomone, The Plaza Manager, debuted in 2006 on the Starz TV Kids and Family Network.
If you learn about the author of Eloise, one Kay Thompson, you will find the heart of who Eloise really is, for as Ms. Thompson put it once, "I've discovered the secret of life: a lot of hard work, a lot of sense of humor, a lot of joy and a lot of tra-la-la!" Ms. Thompson, like her creation Eloise, lived at The Plaza Hotel. She was the alter ego of Eloise, creating an imaginary voice for the character before the book was written and using it in phone conversations with friends. I would have loved listening in on the other end of some of those conversations!  
And just who were Kay Thompson's friends? Oh nobody special – just the one and only Judy Garland was her BEST friend. And as Judy's daughter, Liza Minnelli, once stated, "The best gift my mother ever gave me was Kay Thompson as my godmother." Vocal coach to people such as Lena Horne and Frank Sinatra, Kay was an actress who appeared in movies such as Funny Face with Fred Astaire and Audrey Hepburn and all but stole the show. Ms. Thompson was also a writer, choreographer, composer, singer and musician. And if you are a fan of the singer Andy Williams, Kay did a cabaret act with him and was an integral part of shaping his career.
I would be terribly remiss if I did not give equal praise to Hilary Knight, the man who made Eloise spring to picture book life with his distinctive black, white and pink renderings of the girl who is always six and seemingly absent the presence of her parents. Ms. Thompson gave voice to Eloise literally and through her picture book narrative, but it was Mr. Knight that captured and brought her wistful vivacity to life with his drawings! For you see amid the energy and nonstop activity of Eloise's life, if you read between the lines, there is a distinct unspoken longing.
If you would like your young reader to see just a snatch of the energy that created the narrative side of Eloise, please go to YouTube and watch two songs that feature Ms. Thompson's talent. They are called "Think Pink" and "Clap Yo' Hands" from Funny Face. Her enormous energetic confidence and charisma is catching, and you can also find that same magic in her picture book called Eloise.
Eloise helps maids change beds at The Plaza, drops in on weddings receptions uninvited and watches demure debutantes mingling.  Your young reader will love meeting Skipperdee, her raisin-eating turtle that also wears sneakers, plus her dog Weenie that looks like a cat! Ms. Thompson felt her book was created not solely for children, but, as she put it, for "precocious adults" as well!
Former New York mayor, Ed Koch once said of her, "Eloise is one of the more delightfully fiendish literary heroines of our time," and The New York Times heralded, "Eloise is one of the most recognizable characters in children's literature"
But don't take my word for it. Please take a young reader in tow and read for yourselves about this six year-old wonder that orders Room Service each day with careless aplomb and relays most orders with a mimicked three word emphatic repeat learned from Nanny, as in "Nanny likes her coffee HOT HOT HOT." And, if you just happen to be having luncheon at the Palm Court at the Plaza and see someone of six with a black pleated skirt, white blouse and black Mary Janes, tucking into a serving of the Gugelhopfen, pull up a chair and ask to join her. I promise you it will probably be a VERY entertaining time. But FIRST, read the book! It's a classic – just like Eloise!!  
************************************************ 
If you want to read more about The History of Eloise at The Plaza, may I suggest the following link?