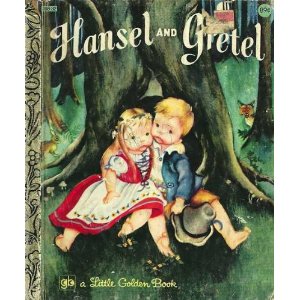 Way Back Wednesday Essential Classic
Hansel and Gretel
By The Brothers Grimm; Pictures by Eloise Wilkin
A Little Golden Book
I venture to guess most, if not all, of the Baby Boomers that are now grandparents, grew up reading these books.
Starting in 1942, they originally sold at the ginormous price of 25 cents! Yes, for one quarter of a dollar, your child could read the likes of "The Pokey Little Puppy", "Tootle the Train", "Scuffy the Tugboat", "The Saggy Baggy Elephant", "The Shy Little Kitten", "The Tawney Scrawny Lion", "The Little Red Caboose", "Mother Goose", "Prayers for Children", "Three Little Children" and a slew of other initially published titles.These small books soon found their way into households, hands and eventually the hearts of young readers everywhere. And they have stood the test of time, with the authors and illustrators whose artistry created them. That is my definition of a classic picture book read and Little Golden Books are classics.
Their lure was not merely their attractive price, but their writers and illustrators were the likes of Garth Williams, illustrator of "The Little House on the Prairie" series, "Charlotte's Web" and "Stuart Little", Margaret Wise Brown of "Goodnight Moon" fame, Richard Scarry, Trina Schart Hyman, James Marshall, and Alice and Martin Provensen to name but a very few.
These people made artistry and great narrative available to every child that had a quarter. That, in and of itself, is a wonderful thing.
Guess the reason I keep bringing these classic books forward in the Way Back Wednesday segment of The Snuggery is that I firmly believe their artistic value needs to be brought forward again and again so a new generation can see them and hopefully love them as we Boomers did.
I had a first hand experience of the impact they had on one child now grown to be an artist that did covers for Penguin paperback books. Bill had, as a child, a well loved copy of "Scuffy the Tugboat." It somehow was lost in the passage of time. When he spoke of this book, and its story and art, you could tell it had affected his life, AND maybe even his future profession as artist.
So I made up my mind to find an original of this Little Golden Book. It took a while, but I did it. Wish you could've been there when I put the book in his hands. It was really something to see him gently thumb the pages of a book he had treasured as a child and could practically recite as a adult.
Books DO affect young readers for a lifetime.
So, why not perhaps revisit YOUR journey with these wonderful Little Golden Books and launch a new discovery, via your own grandchildren, children or a young reader you know?
Please go and rediscover a Little Golden Book with your little ones. It's way past time!