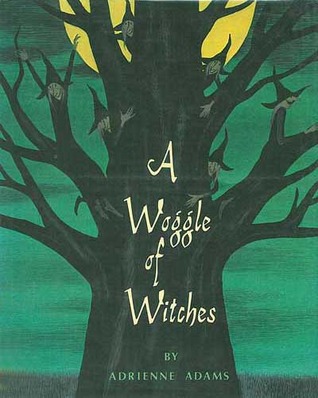 Way Back Wednesday Essential Classic
A Woggle of Witches
By Adrienne Adams
Halloween has morphed slowly from a night out for trick or treaters into a huge holiday in the United States. And so, as the run up to All Hallows Eve begins, here's a Way Back Wednesday picture book gem from the early 70's.
I was curious about the term "woggle" from Adrienne Adams' title, called "A Woggle of Witches." Seems a "woggle" as defined in the dictionary is the thing that attaches neckerchiefs. If you have a Boy Scout in the family, or love scarves, you will know what I mean.
But my husband ventured that the title infers more a "gaggle" or gathering, than anything else. That's what I think too.
Your young reader will love the haunting atmosphere created in Adams'  wood full of witches, lounging in hammocks amid the treetops on All Hallows Eve.
"On a certain night, when the moon is high,

one calls, "Wake up. Time for the feast is come."

 
And feast the witches do …on bat stew.
Then, it's a quick hop on a broom to circle the moon on a cloudless flight.
Adrienne Adams atmospheric and mood-filled art of witches winging their way skyward, in formations Blue Angel pilots would envy, is fanciful and fun. Her use of color in green, black, yellow and purple makes this Halloween holiday woggle witch gathering a reading trip to enjoy with your young readers this season.
And its ending is sure to please with its "who really scares who" scenario as the woggle stumbles upon a "woggle" of young trick or treaters in a cornfield.
     "Let's get out of here!"they cry.

     All quivering and quaking,

     they leapt on their brooms,

     and slant toward the sky."
"A Woggle of Witches" by Adrienne Adams is a Halloween sweet treat picture book not to be missed.
*Here's a link to another favorite witch of mine. She's a witch called Hazel that appeared in this 1952 cartoon called "Trick or Treat,"with Donald Duck's nephews named Huey, Dewey and Louie.
Donald wants to trick, but Hazel gets the nephews their treats in a witchy way.
Boo!