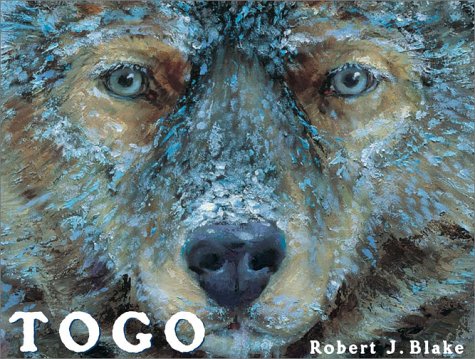 Way Back Wednesday Essential Classic
Togo
By Robert J. Blake
On February 13th, an article appeared in the New York Times Sports Monday section called "Spirit of a Racer in a Dog's Blood" which featured a Westminster Kennel Club Dog Show entrant named Winnie. It caught my eye. Winnie just also happens to be a Siberian husky sled dog that recently raced in Massena, N.Y. and has royal lineage. What is the lineage you may ask? Her roots trace back to one of the most amazing exploits involving that most ancient of man-dog bonds.
I'm talking about the 1925 life and death race of a team of huskies to deliver life-saving diphtheria serum to Nome, Alaska bound up in an icy refrigerator of near impenetrable cold.
This race against time became the inspiration for the famous Iditarod race each year.
The two lead dogs in this amazing race of fierce determination, will and guts were called Togo and Balto.  The famous Balto's statue still stands in Central Park even today. And if you would let your children read of their unbelievably brave exploits, I encourage a sit down with their true story in a  book called Togo, Balto's lead dog teammate who at the outset initiated a question mark as to his ability to be a team player due to a determined independent streak that could have been a detriment in an exploit in which all dogs must function as one well oiled tireless machine.  It relates with Robert Blake' realistic Arctic snowscapes, the training of Winnie's forebear, Togo by one Leonhard Seppalla in 1925 who believed in the heart and grit of these huskies to perform the near impossible in a race against time to save lives.
As the start of the 2012 Iditarod approaches on March 3rd, coupled with Winnie the Siberian husky's appearance at Westminster, I can't think of a better time to open Togo and give your children a look at still more conclusive evidence of why the quote "a dog is man's best friend" has proof to back it up.
Kids will be cheering for Balto and Togo and their historic life saving feat as their trip of historic challenge, endurance and courage combines through realistic paintings and riveting storytelling to deliver more than the life saving medicine to Nome. It delivers an amazing exploit of the commitment of man and his best friend to deliver the near impossible in a stunning race for life. Kids will love the story of Togo and perhaps, as a side trip to Central Park, have a glimpse of his noble lead teammate, Balto, etched in bronze for all to see.
With numerous awards such as the International Reading Teachers' Choices, Washington Children's Choice Picture Book Award and the Texas Bluebonnet Award, this timely picture book is one children and parents will simultaneously read and cheer.