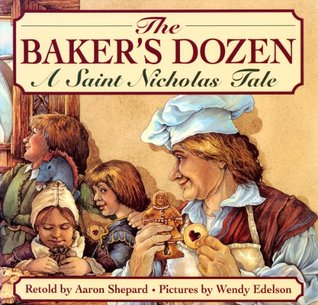 Way Back Wednesday Essential Classic
The Baker's Dozen: A Saint Nicholas Tale
Told by Aaron Shepherd; pictures by Wendy Edelson
Have you ever been in a bakery and received "a baker's dozen?" It's one more than twelve. I haven't received that number in quite a while, so I may just bring this book with me to the proprietor for a read!
But, have you ever wondered about the origin of the term, baker's dozen?
Well, if you have, as St. Nicholas Day approaches on December 6th, you and your young reader are in for a tasty treat of a picture book read, plus a lesson in "giving more than you get", via this picture book tale of colonial times, told by Aaron Shepherd, with richly detailed paintings in sumptuous colors, provided by way of Wendy Edelson.
This is a book that cries out for a lap and a read aloud with a child on a quiet afternoon or evening in December. And its reviewers felt the same way, as evidenced by just one that I picked:
       A lush new version of a traditional

       tale….Well chosen words and nicely

       paced text that begs to be told aloud.

       A treat for the holiday season.

School Library Journal
The story is recounted of the successful Albany baker named Van Amsterdam who has a booming bakery business. And especially on December 6th, his store is awash in baked cookies shaped and iced as replicas of the red and white robed St. Nicholas. They're fairly flying out his bakery door that day.
Enter an elderly, shawled woman asking for a dozen of the cookies. But, when Van Amsterdam immediately packs up the exact number count, her response is, to say the least, not run of the mill, as she asks for thirteen! And as he declines, it does not bode well for the successful baker, as the woman intones:
       "Van Amsterdam! However honest

you may be, your heart is small and

your fist is tight. Fall again, mount        

again, learn how to count again!"
"The Baker's Dozen" perfectly portrays this Old World baker, seemingly a success, yet on the cusp of a learning curve that comes at a cost.
Will his success continue unabated? Will he learn to give a bit more than is asked? It's a terrific lesson in generosity that young readers will ask for again and again, come holiday time. And the art work is stunning in its rich tapestry-like hues. I have not seen Wendy Edelson's work before, but she achieves perfection as she elucidates Mr. Shepherd's text with charm and cheeriness.
I know one thing. If an apple cheeked woman with a shawl wrapped about her, asks me for a dozen apples at the farm stand, you can bet the farm, that I will gladly give her an extra one.
And no questions asked!
For who knows when St. Nicholas may visit us in some disguise to monitor how generous we are?