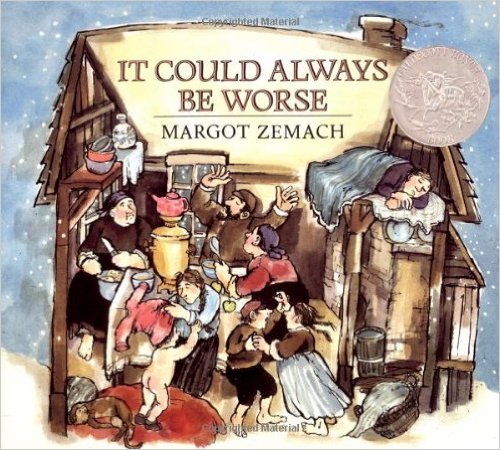 Way Back Wednesday Essential Classic
It Could Always Be Worse
Margot Zemach
I have a framed sampler at home that shows freshly laundered clothes, snapping in the breeze on a clothesline; something that is just about as classic as the book I am about to reintroduce.
And the embroidery in the framed piece has a saying that reads:
If all our troubles were hung on a line;

 

You would take yours.

 

And I would take mine.
Every time I look at it, I'm reminded of how often I've caviled and kvetched about certain circumstances in which I find myself. And, I imagine no one else's can possibly compare…or be worse.
Margot Zemach's 1978 Caldecott Honor designated book, taken from a Yiddish folk tale, hits the mark when it comes to appreciating the fact that "things could always be worse."
Margot, along with husband, Harve, also won the Caldecott Medal in 1974 for Duffy and the Devil: A Cornish Tale."
Additionally, she was United States nominee in 1980 and 1988 for the prestigious international Hans Christian Andersen Award for children's literature.
At her passing, she was lauded by picture book titans with these words:
                Margot not only revivified

                the American picture book,

                but was one of the very few

                who helped elevate it to an

                art form.

Maurice Sendak

 

                 I consider her the consummate

                 illustrator for children's literature.

                 There's no doubt her work will

                 endure.

William Steig
All the more reason to read Margot Zemach's work.
Most of us have a bit of the "carper" in us, at any given time. It's a very human trait to complain about what is, and oh, how we wish things could be different…better, and then, we would be supremely happy!
Here, in It Could Always Be Worse, Margot Zemach's picture book is about a Jewish nuclear family on a learning curve of life, and the wise Rabbi that tenders advice in this perceived crisis of crowding.
Listening most patiently to this Tevye-look alike owner's complaints, the Rabbi innocently offers a continuing and confounding set of suggestions and solutions on remedies to alleviate the noisy home situation.
The farmer follows the Rabbi's admonitions to the letter, and dutifully, but with fear, the farmer adds a proliferating series of his barnyard animals to their hut home.
The family and farmer quickly find that "crowded" is a very relative term, especially when it involves the add on of this many   animals, that add immeasurably to the family's previously limited perception of what a "crowded" house truly feels, looks and smells like.
Admittedly, at the outset, it is a man, his wife, his mother and six children; all living in one room. Things are a tad tight.
The hut was full of crying and quarreling.
But, can this Rabbi, to whom the man flees for comfort and advice, ease this seemingly untenable and uncomfortable situation?
Maybe.
But, it's not the original situation that he suggests altering by deleting tenants. No. He suggests additions, instead. From a nearby shed, he suggests one by one, successive add ons of chickens, a goose, a rooster, a goat, and a cow to their hut homestead.
Can this possibly calm the human storm!
Of course not. It merely adds to the general cacophony of the crowded hut.
BUT, the wise rabbi can, and does provide, perspective as to what degrees "crowded" and "quarreling" really look, feel, and sound like.
The actual noise level of man and animal existing day-to-day, in a one-room hut is off the charts! And Margot Zemach's illustrations brings its rambunctious reality of the constant motion of a herded household, alive for the young reader.
Not until things reach critical mass, and the reverse occurs in the way of removal of the amended animal guests, does the formerly quarrelsome, quartered family find a perfectly peaceable kingdom… by comparison to what had been… literally…animal house.
Margot Zemach's watercolored drawings are humanity in the throes of comic crisis…all bodies in daily routine, trying to find surcease and a place of peace, in a one hut circus of cowering and crying kids and adults, along with a host of animated animals doing their thing, too. Her art, depicting the final scenes of man and mammal coexisting in one room, is riot run amok.
Hilariously human is Zemach's artful take on the Rabbi's solution for the age-old problem of crowding.
Absent the animals, the original household,  numbering nine, is now heavenly… and peace reigns:
                That night the poor man

                and all his family slept

                peacefully. There was no

                crowing, no clucking, no

                honking. There was plenty

                of room to breathe…
And, perhaps with it, my sampler's simple lesson is learned by farmer and family?
                 "Holy Rabbi," he cried, "you

                 have made life sweet for me.

                 With just my family in the hut,

                 it's so quiet, so roomy, so

                 peaceful….What a pleasure!"
It's a not-to-be-missed picture book lesson for young readers by the incomparable storyteller and artist, Margot Zemach, that less is definitely more…if only we realize what we have…from the outset.