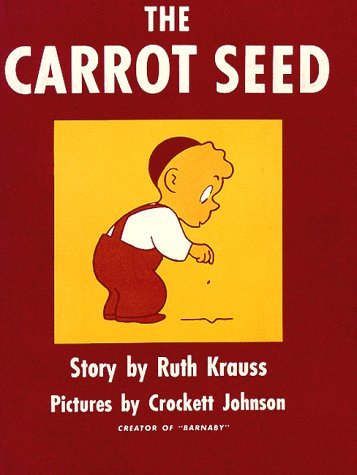 Please Read This Classic Picture Book to Your Young Reader That Emphasizes Hope and Faith… Even When There is Doubt About Outcomes! And Here, a Child Believes First.
The Carrot Seed
Story by Ruth Krauss; pictures by Crockett Johnson
How does one develop a "quiet confidence of self-assurance" that things will work out in navigating those eddies, both large and small, that life will inevitably bring our children's way?
Maybe a ripple of the reasoning behind riding the rocky shoals can be found in a simple, small book written by Ruth Krauss and illustrated by her husband, Crockett Johnson. Love that name.
Published in 1945, it came to fruition toward the close of World War II. And maybe the world's confidence was a bit shaky as a whole at that time. The world was just coming out of a time when outcomes of enormous importance were in doubt. Nothing was a given. Nothing was for certain. Little in life had a gilt-edged guarantee. And that's what we seem to want today; the guarantee against life. We want it in our appliances.. and for our children.
In The Carrot Seed, at first glance it is a straightforward narrative of a beanie- topped boy, planting a single carrot seed. Not much going on, right? Wrong.
Right away come the naysayers. Peering into the seeded hole, the head shaking begins, and the seeds of doubt are planted right along with the carrot seed, as in "I'm afraid it won't come up,"
It's repeated by mom, dad and even a sibling – repeatedly.
Nevertheless, the small boy has what I like to call "patient endurance" in the face of other's verbal doubts.
In a word, he is confident. He is confident in his own ability to grow, not only a carrot, but conquer the challenges that will be part of its growth. He weeds, waters and tends… patiently.
Nothing much happens for quite a while. Isn't life like that sometimes? And he is not dismayed, deterred or downcast. He is not afraid.
That word, "afraid" keeps up its soft drumbeat by the naysayers. "I am afraid it….
This small boy is not afraid of the possibility of failure, of foolhardiness, or the vagaries of weather. He has something that is so essential, yet ephemeral, that you cannot see it or touch it, like you can with the drop of the seed into the earth; yet perhaps it is more essential..
In a word, he has faith, both in himself, and in the sure knowledge that growth is possible.
As we begin a new planting season on our farm this year, and as each small seed (yes, carrots, too) is dropped into the earth, and is covered, watered,  weeded, and tended, I want to continue to remember the little boy and the "quiet confidence" he displays in Ruth Krauss's wonderful picture book. I sincerely hope that your young reader will also, after reading The Carrot Seed.
And, as you read this to your young reader, you will perhaps be planting the seed of confidence, in place of that fear of failure.
An optimistic outlook in life that things will turn out okay is much needed in the current culture within which our children are growing up today, just as it was in 1945, with a world at war at that time.
Then, it was a world at war, and for the past year, it has been with a war against a worldwide pandemic that we seem to be winning on many fronts.
Come to think of it, things are still pretty unsettled on the world scene some 76 years after its publication. So maybe now, just as it was when Ruth Krauss wrote this wonderful picture book called, The Carrot Seed, we need to reread this classic book to young readers, with its message of positive possibilities.
It's time to plant the seed for success in life….with a picture book called The Carrot Seed.
*I've added a link at the bottom. It's a wonderful song from the animated 1973 movie version of E.B. White's Charlotte's Web, with Debbie Reynolds as the voice of Charlotte. It's still out there, and I recommend it highly. Here, she sings the poignant "Mother Earth and Father Time."