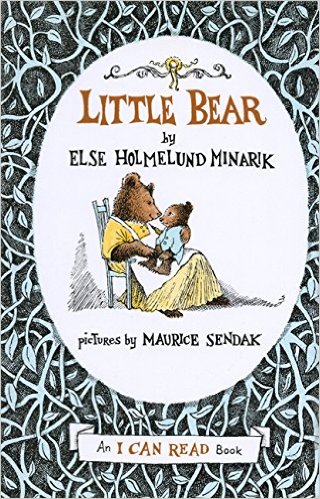 Way Back Wednesday Essential Classic
Little Bear
By Elsie Holmelund Minarik; pictures by Maurice Sendak
If your young reader is ready for the grand leap to the chapter book, and, may I just suggest that it seems a bit rushed today, as there is nothing wrong with kids lingering in the picture book pasture, till they are ready to move on.
But, when they are, then the "Little Bear" of Elsie Holmelund Minarik's, "I Can Read" series, is the perfect leap to reading readiness.
Your young ones will meet an endearing  Little Bear, and his wise, white aproned Mother Bear, who, in four chapters, sweetly illustrated by none other than Maurice Sendak himself, navigates early learning and life situations for a Little Bear that mirror very human ones.
My favorite is the first chapter. Little Bear is on a sartorial learning curve, as he states to Mother Bear…"I am cold," after a romp in the softly, falling snow.  And she, a very obliging mama, makes a hat, coat, and snow pants, in a trice, as she is "sew" handy, and eager to protect her little one from the elements. But is this overcoating necessary?
Little Bear finds himself, via a hint from this wise Mother Bear, still in need of a fur coat, despite all his wintry paraphernalia.
But wait a minute. This is a bear.
Doesn't he come with a built-in fur coat; a fact this furry little one discovers when he asks for one. And your young readers will love discovering this fact right along with Little Bear.
Little Bear's birthday finds him attempting a Birthday Soup to celebrate his natal day with friends, Duck, Chicken, and Cat. Could Mother Bear have forgotten the big day? Here again, Ms. Minarik has a spot on feel for every bear's, read child's fear, of someone forgetting their Big Day.
Little Bear even has an imaginative journey to the moon, with his do-it-yourself space helmet, fashioned from a festooned cardboard box with wire antennae attached, as he takes his own imaginative leap space ward, from atop a small tree only to roll  back to reality…and home again, from the moon to an earthly lunch where Mother Bear can't help but be a bit of a tease, pre-lunch.
She asks the question, in wide eyed innocence, as he strolls in, "Are you a bear from Earth?" As he regales her with his space travels, she indulgently observes:
My little bear did the same thing.

He put on his space helmet and flew to Earth.

So I guess you can have his lunch.
When it comes to imagination versus reality, this Little Bear surely know where the lines are drawn, as arms around a generous waisted Mother Bear, he sets things aright with a type of "Mother, may I? ending.
He said, Mother Bear, stop fooling.

You are my Mother Bear

And I am your Little Bear,

And we are on Earth, and you know it.

Now may I eat my lunch?

 
The writing of Else Holmelund Minarik and the delightful artistry of Maurice Sendak combined in 1957 to bring this fully human childlike and adventurous Little Bear to life for generations of young readers to enjoy, helping them navigate the journey from picture to chapter book.
The final chapter, entitled "Little Bear's Wish," brings things full circle for Little Bear and your young reader.
Tucked in bed, he cannot sleep. Sound familiar, moms and dads? He is in the throes of a great wishing for adventures which he enumerates in detail. They include cloud flying, boating with Vikings, tunneling to China, and riding in a "big, red car" to a castle where Little Bear would be greeted by a princess with a huge piece of cake…just for him.
With each wish, Mother Bear gently suggests: "You can't have that wish, my Little Bear." And lest you think her a bad mama for putting a damper on dreams, Mother Bear instead regales and recounts a story of the actual adventures of a Little Bear  who just happens to be… you know who.
In this classic read, author and artist have made it more than bearable. It's heavenly.