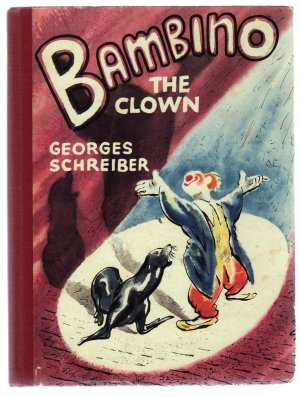 Way Back Wednesday Essential Classic: Bambino the Clown
Bambino the Clown
by George Schreiber
There is a very fine dividing line that I have discovered on opinions surrounding the subject of CLOWNS. And the line is crystal clear, as it seems there IS no middle ground. You either love them or fear them. So imagine my surprise when I found a Caldecott Honor book from 1948 that will let YOU make up your mind from a SAFE distance. I must recuse myself from this debate as I fell in love with Bambino! And whether after reading it, you too fall in love, in LIKE or still run screaming into the night, you will have shared with your young reader a beautiful narrative on what it takes to be understood in this world – a listening ear, time and compassion. Bambino has all three virtues in equal amounts. And it does help if you also have as a pet a black Sea Lion called Flapper and a sense of humor!
When I read these wonderful vintage Caldecott classics, I often wonder to myself, "Where are these authors now?" "Are they still living?" Do they realize the effect their picture book are STILL having on readers, as in the case of Bambino, some 66 years after its printing? Sometimes I DO look them up online to see where they are and the specifics of their careers as writers. And in the case of George Schreiber, it started me down an offshoot of my original intent on a review of his book.
What sidetracked me was the discovery of something George Schreiber and many other artists were part of in the years of the Great Depression and even into World War II. Have you ever heard of the Federal Arts Project? Well, neither had I. It was an arm of the WPA or Works Progress Administration, begun by Franklin Roosevelt in his New Deal effort to get the country moving again economically. Started in 1935 and ending in 1943, it gave artists such as Jackson Pollock, Thomas Hart Benton, George Schreiber and hundreds of other artists an opportunity to do posters, murals and paintings that wound up hanging in schools, hospitals and libraries. The Federal Arts Project provided artists with income and an opportunity to display their work. And the public had a chance to see great art at a time when the soul-feeding jolt that the arts provide was sorely needed. George Schreiber enrolled in the WPA Arts Project in 1936 and over the next three years he traveled all 48 states (yes, only 48 at that time!), creating lithographs of American Regionalist imagery. A link to a sample of that imagery is provided below.
Museum collections representing Mr. Schreiber's work include The Metropolitan Museum of Art, The Brooklyn Museum, The Whitney Museum of American Art and The Museum of the City of New York. I always am excited to see young picture book readers experience great art ALONG with a great story. It lets them see and remember at a young age what "great" is, as opposed to "mediocre!"
At his death in 1977, George Schreiber who was not ONLY an artist but also a war correspondent in World War II AND poster designer was part of a NYC WPA Artists exhibit at Parsons School of Design. He was also a noted lithographer, teacher and writer. And so, we come full circle back to his book on the little clown, Bambino.
Take a look with your young reader at some great art by George Schreiber and the charming story of his invention, Bambino the Clown, a Caldecott Honor book of 1948. This clown and the art that brings him alive is a story in itself that shows young readers what "good" art really looks like! Thank you Mr. Schreiber!! You made me smile! For as Bambino reminds his young friend, Peter, as he confides to him what it means to be a clown, "Now you know how to be a clown; you must remember it means just one thing: "To laugh and make everybody happy!"