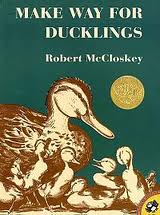 Way Back Wednesday Essential Classic: Celebrating 75 Years of the Caldecott Medal!
Make Way for Ducklings
By Robert McCloskey
Spring is right around the corner, right? Why not forget all about that not so gentle reminder Old Man Winter dumped on us yesterday, in the form of several inches of the white stuff. As I said, spring is near and what better way to continue our celebration of the 75th Anniversary of the awarding of the Caldecott Medal on our Way Back Wednesday segment, than with "Make Way for Ducklings", the winner for 1941! In his creation of a celebratory medal for the 75th anniversary, Brian Selznick, 2008 winner, fashioned a medal featuring 10 iconic characters from Caldecott winning books of the past. And guess who made the cut? You guessed it, those mallards that journeyed to Boston Public Garden to find a safe haven and home for their little ones. They, and Officer Mike who guides the ducklings on their crossing to the garden are still on the list of books most cherished by children.
If you have an opportunity to visit Boston, or perhaps even Moscow, you will see the ducklings and their mom there too. Well, not the REAL ducks, but a very close facsimile.
Sculptor Nancy Schon has fashioned a bronze sculpture of the eight ducklings and mom that sit atop Boston cobblestones in Boston Public Garden. I was there recently and I stopped to watch children and adults talking, laughing and climbing atop mom and her octet and having a grand time.
The plaque near the sculpture is inscribed with the words:
"This sculpture has been

placed here as a tribute to

Robert McCloskey

whose story

"Make Way for Ducklings"

has made

the Boston Public Garden

familiar to children

throughout the world."

1987
In 1991, a similar sculpture was also done by Nancy Schon and presented to the children of Russia and Mrs. Raisa Gorbachev by Mrs. Barbara Bush. It can be seen in Novodevichy Park in Moscow in you're ever in the area. You can actually do a Robert McCloskey tour of sculptures if you've a mind to. Ms. Schon has done a bronze called "Lentil and His Dog Harmony" from Mr. McCloskey's book, "Lentil". It can be found in Lentil Park in Hamilton, Ohio. And what about meandering over to Boothbay, Maine to see "Sal's Bear" from "Blueberries for Sal", in the Coastal Main Botanical Garden?  Ms. Schon's web site found at www.schon.com contains great information about all these spots, plus some of her other picture book sculptures such Eeyore, Piglet and the Hunny Pot. This can be found at the Newton Free Public Library Patio in Newton, Massachusetts. Make a McCloskey tour, books in hand!
The New York Times called this book, "one of the merriest picture-books ever…told in very few words with a gravity that underscores the delightful comedy of the pictures. Well said. For what could be more serious than parents finding the perfect spot to call home for their children. But picking it out and getting their brood there, is where the merriment truly commences.
As spring slowly meanders onto the scene, why not visit the mallard family with your children either in written form, or sculpted in bronze. Better yet, do both! This Caldecott winner from 1941, is still fresh, funny and truly exemplifies Dorothy's quote from "The Wizard of Oz" and her plaintive cry, "There's no place like home."  – Even for a gaggle of ducks!