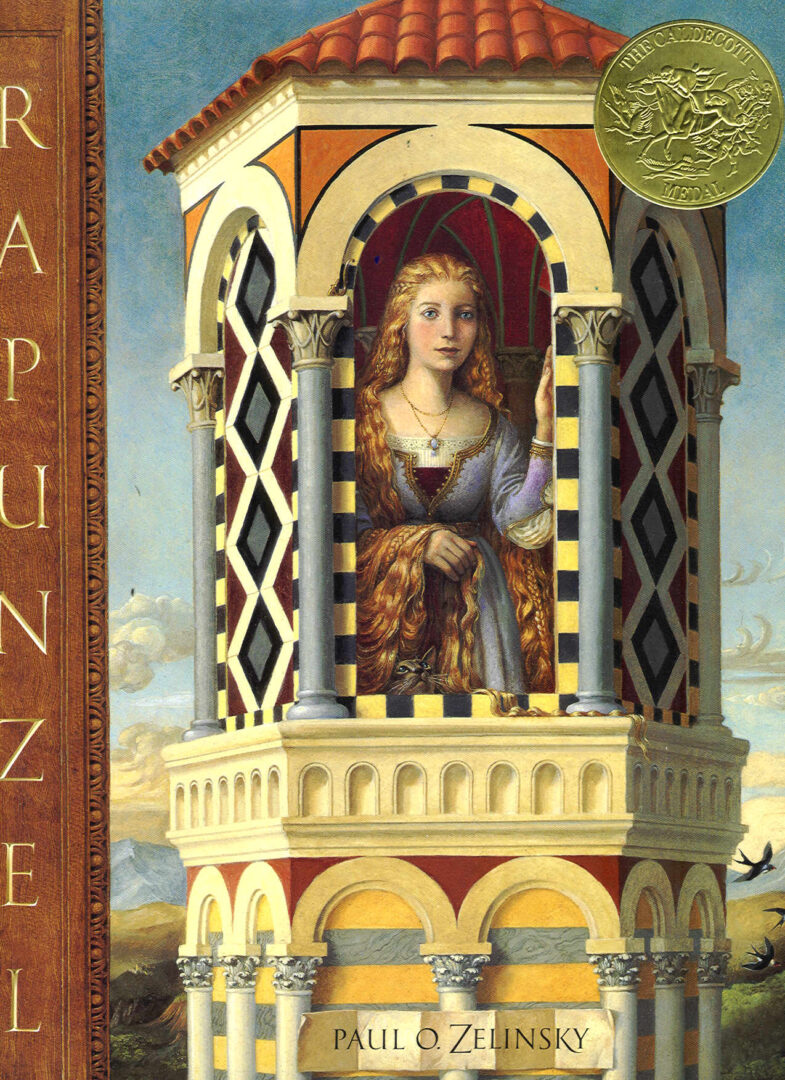 Way Back Wednesday Essential Classic: Celebrating the 75th Anniversary of the Caldecott Medal!
Rapunzel
By Paul O. Zelinsky
Oh are you in store for a rare treasure in Paul O. Zelinsky's telling of Wilhelm and Jacob Grimm's tale of Rapunzel! For most of us who remember bit and pieces of the story from childhood, probably the line that stands out is the witch cackling, "Rapunzel, Rapunzel, let down your hair." I remember when I first read some of the alternate versions of this wonderful story, specifically the German translation by one Joachim Christoph Friedrich Schulz. It more fully related the term "rapunzel" to an herb or ornamental flower called rampion, which according to Mr. Zelinsky, is "both an ornamental flower and salad green" with "a flavor somewhere between watercress and arugula." Who knew? And while I'm into background of fairy tales, the Grimm Brothers adapted "Rapunzel" from a German translation from a "much older French literary fairy tale". And it drew, according to Mr. Zelinsky, from a story published in Naples included in a collection called "The Tale of Tales". There it was called "Petrosinella". Fairy tales, and Rapunzel specifically, is a great example of how oral tellings and literature meet and intermingle for there are many differences in the versions, depending on the one you read.
In this Caldecott Medal version by Paul O. Zelinsky, also winner of three Caldecott Honor Medals, for his illustrations in "Hansel and Gretel", "Rumpelstilskin", and "Swamp Angel", your young reader will be in for a feast of the eyes and ears.  In the tradition of Italian Renaissance painters, his telling is infused with a beauty that is breathtaking in its richness. The glint of gold from Rapunzel's falling tresses, the faraway dotted landscape surrounding the secluded tower where she is held captive by a witch, even the high emotion etched in the faces of the principals brings the tale forward with a keen eye for detail that is stunning. Their faces alternate with compassion, fear and love. This is a version whose art is fully human and therefore fraught with good and evil.
Things are not always what they seem in fairy tales. Witches can be bad or good, depending. Are they mean, just to be mean, or do they harbor other loftier motives? Is Rapunzel imprisoned from the world for punishment or protection? You decide.
As Stephen Sondheim so wonderfully stated in his song, "No One is Alone" from his musical "Into the Woods":
"Witches can be right,

Giants can be good,

You decide what's right,

You decide what's good."
Fairy tales are a wonderful touchstone for entry into the world, for confronting fears and fortifying kids as they peek into a wider world that is beautiful, confusing and sometimes frightening all at the same time. Fairy tales are a small way to show them they are not alone in their feelings and like "Rapunzel", life is a learning experience of small and big decisions. If you want to start small, my suggestion is to start with the reading of Paul O. Zelinsky's "Rapunzel."