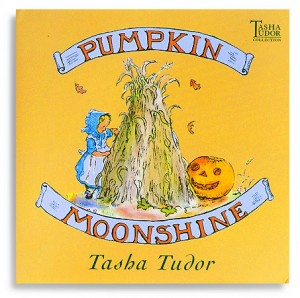 Essential Classic Picture Book Halloween Fun!
"Pumpkin Moonshine"
By Tasha Tudor
Recently, I went to our local costume/party shop in town to find it decked out for Halloween. The owner has even been known to create a pretty authentic looking in-house haunted house, a time or two. Outside you will find a VERY angry looking clown with green teeth and inside you'll see ghouls,trolls, bats and other baying-at-the-moon types. Many are sound and voice activated and echoed through the shop as I trekked up and down the aisles looking for the ghost of Halloween Past. It was nowhere to be found. Instead I found costumes of gruesome gargoyles and the like.
What I was looking for was a kinder, gentler Halloween of cute witches, hobos and fairies. No dice. But wait, I DID find it in a picture book I remembered, called "Pumpkin Moonshine" by Tasha Tudor.
If you've not discovered this iconic picture book author OR if she has fallen off your young reader picture book radar, this is a perfect book to introduce her or reintroduce her to your youngest of readers.
It's opening dedication is titled "A wee story for a very sweet wee person" and that's just what it is. But just in case you're thinking – dullsville – I say, oh nay nay! Tasha Tudor, both in her art and narrative has captured holidays and family life celebrated as special moments filled with traditions and sentiment. BUT, there is usually excitement afoot as there is here in "Pumpkin Moonshine."
Did you know that "Pumpkin Moonshine" is an alternative name for a jack o' lantern? Meet Sylvie Ann visiting her grandmother in Connecticut on Halloween. Setting out for the cornfield with her small dog Wiggy in tow, they " puff like steam engines" up the hill on their search for the perfect pumpkin.
If you have young ones that are on a "perfect pumpkin" quest you know it is sometimes quite a quest. And quests usually are time consuming, but a labor of love. And so it is with Sylvie Ann and Wiggy. They find a pumpkin so big it must be rolled "just the way you roll big snowballs in wintertime." Hey, I've done that! But I've never rolled it DOWN the hill where the momentum of a BIG pumpkin can let him get away from you – and so it does with Sylvie Ann!
Kids will be laughing as goats, hens and geese scatter in the wake of the runaway pumpkin moonshine that "tore into the barnyard at a truly dreadful speed", with Wiggy and Sylvie Ann in hot pursuit. Mr. Hemmelskamp ( love the name) is the one that is upended in the path of the galloping gourd – and lands on his face!
With apologies to all, grandpa and Sylvie Ann commence lopping the top off the pumpkin, scooping it out and making "eyes and a nose and a big grinning mouth with horrid teeth."
Pumpkin moonshine sits on the front gate post on Halloween as night falls and grandpa and Sylvie Ann hide in the bushes "to watch how terrified the passers by would be.."
For me, the best part of the book is the full cycle of nature that Tasha Tudor weaves into her tale as Sylvie Ann saves the seeds and plants them in the spring. As the seeds grow and cover the earth with vines, NEW pumpkin moonshines will fill the field to be made into future grinning jacks and pumpkin pies!
"Pumpkin moonshines" just waiting to be transformed. abound in fields and farms this time of year. It's great to have a picture book with both great art and narrative AND a lesson in it for kids that the carved up jack o' lanterns they shape this Halloween, have within them, the seeds for a NEW crop the following year.
Tasha Tudor has fashioned stories with great respect for families, traditions that bind them together and the renewability of nature.
Why not introduce your young ones to this sweet teller of tales named Tasha Tudor this Halloween, and her wonderful "Pumpkin Moonshine" that is an essential classic for any picture book reader this time of year.
I recently purchased a board book version of this classic read. It will stand up to many readings, sticky fingers and toting off to bed for pre All Hallows Eve reads.
Happy Halloween!