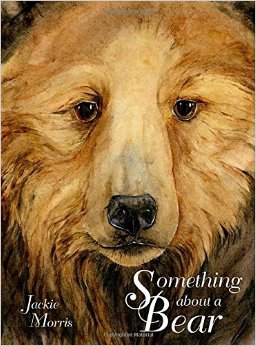 All things wild and wonderful….
Something About a Bear
By Jackie Morris
Jackie Morris and bears; it seems from the jacket flap of this title, that they have wandered through her artistry for many years. Her overarching goal in her picture books appears to be giving young readers a renewed respect for all things wild and wonderful. And bears are both.
Eight interesting bear types are her topic here. Be they the Asian Moon bear, the fierce and huge-clawed Sun bear, the jungle Spectacled bear, the rare, white Black Bear the Chinese Giant Panda or three others, Jackie's gorgeous paintings brings each bruin to a beautiful intensity of interest.
Each bear is unique in its habitat and habits and your young reader will enjoy poring or shall I say "pawing", through this great picture book find.
Any of her other titles including "I am Cat", "The Snowy Leopard" or "Song of the Golden Hare" have given nature's inhabitants a very distinctive plug for these wild things and where they abide.
She has also written a book called "The Cat and the Fiddle – A Treasury of Nursery Rhymes" that I am anxious to have a look  at.
If your child has an interest in nature or just loves bears, as most kids do, this is a not-to-be-missed read.
She even includes conservation web sites at the conclusion of the book, along with additional information on the habits and habitats of each bear – plus their favorite chow. The Sloth Bear, for instance, nibbles on his snack; a tasty tidbit called termites! Yum! Kids will love the yuck factor here as the bear sucks them down through a gap in his front teeth. Cool!
And I love her closer:
"Of all the bears in the wide wild

world, the very best bear of all

is…your bear."
Still have mine!