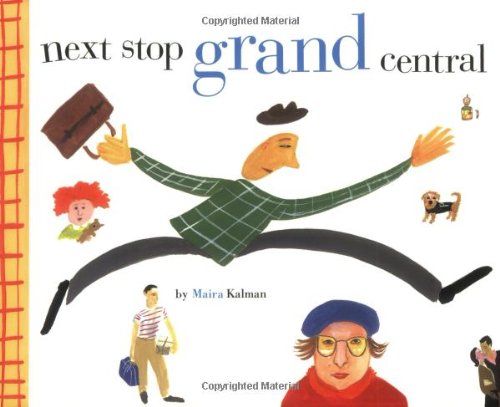 The Spirit of Grand Central Station
Next Stop Grand Central
By Maira Kalman
Trains are the quintessential Baby Boomer holiday toy. If you've ever glimpsed holiday pictures from homes in the 40's and 50's, and even if you look at vintage Christmas displays in store windows, you'll see toy train sets. I was in a store recently and sure enough, there beneath the tree ran a toy train set, circling the bushy, and green fir tree's base. And they're still a big part of the holiday scene today!
Parents living in the New York City area and those visiting the Big Apple over the holidays are in for a double treat. If you take a stroll, cab or even train over to the famous Grand Central Station at 42nd and Park, which according to Travel and Leisure Magazine is the 6th most visited tourist attraction in the world, you can take in something kids and parents will enjoy – The 12th Annual New York Transit Museum Holiday Train Show off the Main Concourse. It features art from a wonderful picture book by Maira Kalman called Next Stop Grand Central. Did you know that by some estimates over 21, 000,000 folks visit there each year?
Maira Kalman, author/illustrator of such amazing picture books as Fireboat, Looking at Lincoln and the soon to be published Thomas Jefferson: Life, Liberty and the Pursuit of Everything has captured the bustling fevered intensity of activity at Grand Central Station, the largest facility of its kind in the world with its 44 platforms for trains coming and going – and taking people in them. And that is what Ms. Kalman has captured to perfection; the humanity of its large beautifully imposing façade and interior that could be just another building. But it is the PEOPLE the book introduces to the reader in the hustling passing parade of commuters, employees and visitors, that will make Grand Central come alive for your young reader. That swarm of humanity that hurries in and out each day has lives and jobs, families and worries, destinations and disappointments that make the book thrum with a pulse that IS Grand Central itself.
Your young reader is sure to have favorite among the passing parade of people portrayed in Ms. Kalman's book that are either permanent fixtures at Grand Central or those just passing through. My two favorites were Bob Hennessey and Mary Donch. He is the Grand Central's fire chief. Must be a sentimental connection as my dad was a fire chief also and he too enjoyed Bob's preferred sandwich. Bob prefers grilled cheese sandwiches! And Mary Donch is the engineer on one of the trains. Wearing yellow gloves and blue safety goggles, with a turn of a brass key she is able to make her train go 90 miles an hour and, Ms. Kalman is quick to note – SAFELY!  After reading the picture book, I actually think I could pick out these individuals in a crowd! Mr. Frank Chidester of Lost and Found is one of them. What a kindly face he has and what a job! Imagine the amounts of items lost there? Ms. Kalman's distinctive illustrations bring them very much alive to the reader!
So, if you have an opportunity before February 23, 2014 to visit Grand Central, when the exhibition closes, take the young ones in hand and see firsthand two things uniquely New York that include a building that pulses with the holiday spirit and the art from a picture book called Next Stop Grand Central that are part of this wonderful holiday train exhibition. It picks ups the very spirit of Grand Central and this picture book and exhibition are a ride worth taking this holiday season! Don't "dilly dally" or "shilly shally" as the book says! Have a grand adventure at Grand Central! And why not meet under its iconic four-faced clock, as did Judy Garland and Robert Walker in the 1945 movie, The Clock, directed by the famous Vincente Minnelli? It too like Next Stop Grand Central is a gem!
*********************************
For more information on the exhibit in Grand Central Station, click here.