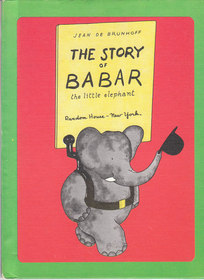 Way Back Wednesday: We Love BABAR!
The Story of Babar the Little Elephant
By Jean de Brunhoff
This Way Back Wednesday blog was prompted by a trip to my local small town bookstore. I love poking through shelves and rediscovering picture books that I had forgotten about. There, staring me in the face was the familiar blue and orange cover of the original "The Story of Babar" beckoning.  I remember reading the Babar books to my own now grown girls er women. A stuffed Babar was a stand by comforter that had his place in their rooms for many years. For those of you who may not be aware, Babar was the literary forbearer to "Dumbo" long before Walt Disney put his "elephant who could fly" on the screen! Dumbo came out in 1941 and was inspired from a children's story by Helen Aberson. It was the only animated Disney film where the main character doesn't speak and reportedly was Walt's favorite.  
One of the reasons I started The Snuggery was my view that these classic picture books were falling off the radar for parents and grandparents who remember them fondly and would wish to connect these classic picture book reads to their own children and grandchildren. I was a woman on a mission and four years later, I think the word is getting out there that these picture book gems are timeless and have something to impart to each generation that falls in love with them – if given the chance.
Reenter Babar, this 1933 classic, and as Mr. de Brunhoff's story opener imparts, this one of a kind elephant wanders out of the forest and into town. The opening is sad, much like Felix Salten's "Bambi", where hunters kill his mother. The same fate is true for Babar's mom. The reaction of the entire forest to Babar's loss is a one line sentence that is powerful and true as it intimates that everything in nature is connected:
                  "The monkey hides, the birds fly away, Babar cries."
But Babar's future will be as rich and unpredictable as Bambi's in a wryly amusing way for he wanders into town after eluding the hunter, and luckily meets the famously philanthropic rich Old Lady who has a fondness for little elephants. Babar has longed for some fine clothes and now, with the financial wherewithal of his benefactress, he is soon outfitted in his trademark, snappy kelly green suit, pink shirt and bowler hat. Babar is one nattily dressed pachyderm on parade. Mr. de Brunhoff manages to make Babar's desires so normal that his delightful tale unfolds without a hint of the ridiculous. Kids get it. Anything is possible in the land of imagination!  This elephant poses for pictures dressed to the nines, sleeps in a bed, exercises regularly, takes daily automobile rides, attends school via a private tutor and stands around in red tie, white vest and black tails, chatting with guests of the Old Lady at pre dinner chit chat, talking of his forest days. And it all seems so natural!
Young readers will enjoy meeting Babar's cousins Arthur and Celeste who also initially are in need of some clothing. No problem! A quick trip to a fine clothier and a stop at a yummy pastry shop, and they too are a natural part of Babar's world – and your young reader's.
If you want to find out how Babar is chosen King of the Elephants by the three oldest pachyderms of the forest, please let your young reader in on this classic tale of a small elephant who continues, since 1933, to make his HUGE presence felt in classic children's picture books! And please enjoy with your child the additional six storybooks about Babar who is known to young readers around the world since his debut. "Long live King Babar!"