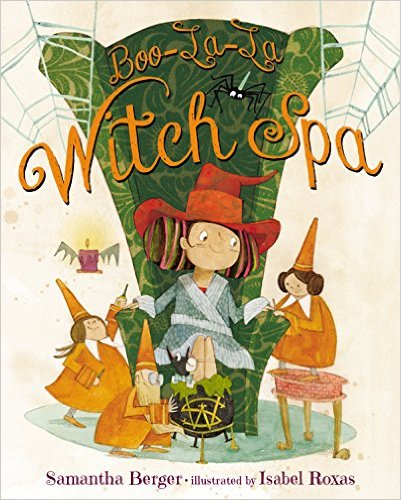 Even Witches Need a Day of Beauty!
Boo-La-La: Witch Spa
By Samantha Berger; illustrated by Isabel Roxas
Remember what it feels like as parents the day after Halloween? "Spent" is a pretty good descriptive word to describe the feeling. After the endless costume searches, looking for that last accoutrement to complete the costume, stocking up on treats for the doorbell ringers on October 31st, and the door to door march, parents are pretty well pooped.
Imagine how witches feel the day after the Big Day? Maybe they need a day at a spa to be pampered, perfumed and fussed over.
Samantha Berger, in her picture book, "Boo-La-La: Witch Spa," has imagined the perfect getaway for witches that need a day away.
What with the cackling, cooking up of spells and general haunting flights on moonlit nights, a witch needs a day to recoup and Bo-La-La is the perfect spot for the put upon witch. And nothing is overlooked at Ms. Berger's Boo-La-La Spa.
Greeted by gnomes at the door, a witch will find herself immersed in any number of tantalizing treatments.
Toadstool and skunk scented candles set the mood as you enter. Ensconced in a fake  yeti fur robe, it is on to the treatments of choice, be they:
Broom Bristle Facials

Pumpkin Gut Masks

Serpent Spit Spritzers

Scalp Rubs by Spiders
or any number of other things that are, as they say, "Fab-Boo," to any witch that needs to rejuvenate.
Soaking in cauldrons of mold, an Eye of Newt Wrap, and a Skin Scrub done by a willing Scarab beetle, is the living end. Dragons breath saunas are deeply relaxing with a Stone Massage administered by a Hag; highly skilled, but of course.
Believe me, Georgette Klinger, Elizabeth Arden, The Golden Door and Sonoma Inn and Spa have nothing on this witch wonder treatment facility.
And what would a proper spa be without a healthful luncheon of Hex Mex and Jinx Drinks accompanied by Candy Corn Flan.
Hair care is an absolute must; what will the wind blowing through it on high flying broomsticks. So, a bit of Black Widow Oil deep condition and a uplift of green highlights and lowlights, do wonders for the "spirits."
Finally, carting off a collection of "perfumes, powders and potions" to keep up the effect at home, or hovel, this cutie witch newly transformed, finds:
     Her heart's filled with joy and her soul with laughter.

she cannot believe the before and the after!

 She leaves the Witch Spa, feeling like a Witch Queen

 and vows to come back after next Halloween!  

 
Ms. Berger, author of "Crankenstein" and "Snoozefest," has captured the cadence and companionable allure of the Witch Spa named Boo-La-La, allowing picture book readers a view at what young witches do on the day after, the day after, All Hallows Eve!
Sign me up.
But, I think I'll pass on the "Made at Midnight" hair color choice with glittery stars done in Silver Moonlight. Sounds Fab-Boo, but maybe a bit too much!