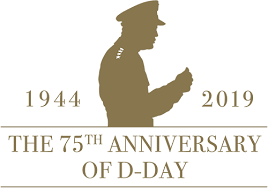 The 75th Anniversary of D-Day – June 6, 1944 – June 6, 2019; It's a Day to Remember for Tremendous Sacrifice and Courage.
Today, June 6, 2019 marks the 75th Anniversary of D-Day.
In the dark hours of that morning, 75 years ago today, ships in the numbers of about 5,000 in "all shapes and sizes" along with more than 155,000 soldiers on board – mostly American, British and Canadian were sailing across the English Channel."
Our children should know why these soldiers were there.
As we get further and further from that date, and its veterans are passing away at the rate of about 450,000 a year, in about twenty years, its participants and their stories will have passed from memory.
And we, as parents and educators, cannot allow that to happen.
Allied leaders, recently in ceremonies at Normandy and other places touched by the invasion to free Europe from tyranny, marked the tremendous sacrifices of Americans that day. President Trump remarked:
"They came here and saved freedom, and then they went home and showed us all what freedom is all about," he said.

He described the troops as "no less extraordinary in peace … they built families, they built industries, they built a national culture."

"In the decades that followed, America defeated communism, secured civil rights … and then kept on pushing to new frontiers," Trump added.

"And today, America is stronger than ever before," he said. In defeating Hitler, troops "left a legacy that will live not only for a thousand years, but for all time."
The New York Times best selling series entitled, "What was?" and "What is?" can do much to stem the tide of the disappearance from memory of events that happened long before children of picture book age were born.
It is important for them to know the relevance and significance of these events in our time, the sacrifices that ultimately relate to them, and their import for their future, if their history is ignored, or erased as irrelevant.
On D-Day, over 160,000 Allied soldiers, "friends joined together for a cause," came by air and sea to come upon the beaches of Normandy in France.
It was the start of the largest invasion force in history, set in motion to stem the Nazis invasion that had stormed Europe, and was continuing its onslaught…unless.
Nearly all of Europe had, at this point, been dominated by Germany.
Up to the time of D-Day, almost no Allied troops were on the ground in Europe.
Young readers may ask what does D-Day mean? D-Day is a code word for the "day of any major military attack?"
D-Day was the beginning of the end of World War II.
I recently read a parent review online of this book called "What is D-Day? by Patricia Brennan Demuth? This parent, several years ago on the 71st anniversary of D-Day. was taking her children to Normandy to see where the events of D-Day unfolded. Her children were between the ages of 5 and 11.
This was the age appropriate book that she chose to read as they journeyed there.
One singular photo of the sight, taken from above is of hundreds of paratroopers dropping from planes from the sky over Normandy at night. And it is just one of the many pictures that may provoke discussion.
20,000 men parachuted from these planes. The terrible toll taken that day was that "one out of five of these brave men were killed, wounded or taken prisoner." And yet, in spite of these losses, paratroopers did manage to take over "key exit bridges and roads."
Your young readers great grandfathers probably were either directly involved or, in some other way, affected by World War II. Certainly many family members were touched  by loss in some way during this day, and the days that followed, until the war's end in Europe on May 7, 1945.
And yet, it's a very important event that must be shared with each generation of children as we move farther from it in time.
Life can be difficult.
It sometimes involves incredible hardships and sacrifices that are thrust upon us. We need to keep these stories alive for successive generations of young Americans, lest they be forgotten… or worse still, erased from memory.
Please let your young readers know about this "Greatest Generation" and its profound ability to navigate and not avoid hardship and sacrifice, most especially on D-Day.
D-Day models for the next generation of citizens, how to face adversity… and overcome it.
On June 6, 2014, on the 70th Anniversary of D-Day, President Obama spoke of that day in these words:
The "course of history" hung on this" sliver of sand [ at Normandy], he said. "Our victory in [ World War II ] decided not just a century, but shaped the security and well-being of all posterity.
Here is General Dwight D. Eisenhower, Allied Commander of the Allied Forces and his address to the American Forces on June 4, 1944, the day before D- Day:
https://www.washingtonpost.com/video/national/listen-to-eisenhowers-d-day-speech/2017/06/06/d170db5e-4ae1-11e7-987c-42ab5745db2e_video.html?noredirect=on