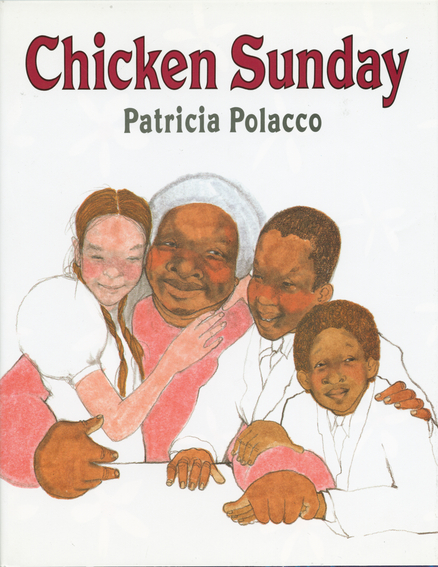 A Mother's Day classic by Patricia Polacco
Chicken Sunday, written and illustrated by Patricia Polacco
Have you ever been fortunate enough to have a mother figure in your life? I have. In fact, I've had several. If you're lucky enough to come into the sphere of influence of these remarkable people, they touch you in ways that nurture you, filling some empty holes that need filling. Gathering you in like lost chicks to a mother hen's brood, they feed you, literally and figuratively.
In Chicken Sunday, Patricia Polacco and her folk art illustrations, offers up one such special person by the name of Eula Mae Walker. Ms. Walker was one of those unique personalities to Patricia in real life. The drawings give Eula Mae such a deeply honest humanity, you almost hope she has a hug for you too—and some wisdom to share along with her Sunday dinners!
As a child, she becomes a neighbor to two young boys, Stewart and Winston, when Patricia's family moves to Oakland, California. Eula Mae is their "gramma" and mother hen par excellence. Stepping in to fill the role of Patricia's "babushka" or grandma, Eula Mae literally feeds Patricia on "Chicken Sundays." So called because after accompanying Eula Mae, Stewart and Winston to services at the local Baptist church, they sit down to a mouth-watering feast of fried chicken, hoppin' john, collard greens with bacon, corn on the cob and fried spoon bread. Hmmm, I can smell that corn bread
Anyway, Eula Mae is a giver as most mother figures are. They give of themselves as easily as they breathe; it's part of who they are. If we are lucky, we discover something THEY want and we try to give it to them. In Eula Mae's case, it is a lovely Easter bonnet, she has seen in a shop window as she says, "That Easter bonnet in Mr. Kodinski's window is the most beautiful I ever did see." A plot is hatched by the three to buy the bonnet.
Misjudgments abound on all sides as the children are accused by Mr. Kodinski of pelting his shop with eggs. They, in turn think him strange and mean. Never judge a book by its cover, folks. Did I just say that?
Mr. Kodinski is the very person whose shop they hope to help sweep out in hopes of earning money for the bonnet!
As egg throwing by other kids creates a rift, Eula Mae urges the trio to make it right with the Russian Mr. Kodinski who, according to Eula Mae, has suffered much in his former homeland. And make it right they do with eggs again as the means. This time though, they are gloriously decorated painted eggs called "pysanky" presented to the elderly man as amends for the cruelty of others.
Will Mr. Kodinski like the pysanky and give them a job to earn the dollars for Eula Mae's Easter bonnet… or is there a better way? Let your children find out in Chicken Sunday. They might also learn a lesson in love and understanding between people. The lesson seems to be, it takes seconds to destroy, but time and patience to build something, whether it's a beautiful painted egg or a relationship.
Have fun reading the book with a child and learning the lessons along with Patricia, Stewart and Winston. This is a perfect book for a grandparent to share with a child as children will have a chance to reflect on the "givers" in their lives; grandparents being at the top of that list.
And take a peek at the back flap cover of the book and see the adult trio who are still friends.
Ever hear the quote—"Some people come into our life for a reason, some for a season and some for a lifetime?" Well, to all the Eula Maes of the world and their healing hearts and hands, Happy Mother's Day and thank you!