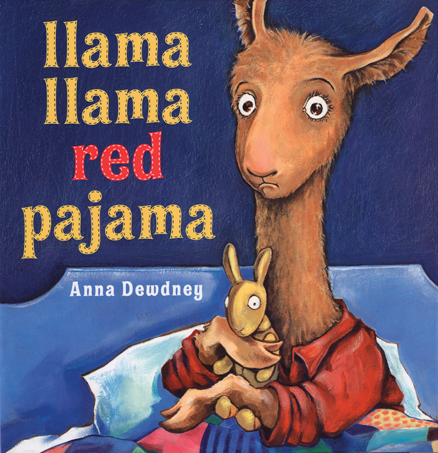 Celebrate Mother's Day with Llama Llama
Llama Llama Red Pajama, written and illustrated by Anna Dewdney
Celebrating the "invisible" among us, Anna Dewdney has put her literary finger on the pulse of what makes mom worthy of celebration; patience, tenacity, and compassion tempered with a homegrown bit of the much needed common sense of parenting.
Anna Dewdney's "Llama Llama" series has managed to perfectly capture the recurrent events of any number of typical childhood dramas and the accompanying roles of motherhood. Alternately, the dramas may be borne of separation anxiety, holidays, frustration or starting school. Funny and touching simultaneously, Ms. Dewdney's stories have the sure ring of truth with which both parents AND children can identify. She celebrates the ability of the average mom to sift order out of chaos, while soothing and imparting the important lesson of a child's gradual move toward self-sufficiency. This is all achieved in a series of lessons gleaned from Ms. Dewdney's books with warmth, facilitated by rhyme.
All great humor finds its mark when it stirs up the familiar in the day-in day-out inevitable crises recreating the common experiences that touch parents and offspring alike, as they navigate the sometimes rocky shoals of what it is to be a family. For example, small llamas, as do their human counterparts, miss their moms at night and use all manner of subterfuge to draw them near:  please read "Llama Llama Red Pajama" for enlightenment and parental comfort. Our youngest child was possessed of a case of yearlong colic.  Or so I thought, until a light bulb went off and the idea slowly took hold that the nightly forays into her room for cuddles and rocking, was because she missed me and loved this alone time!  That same theme is echoed with "aha" recognition, in the aforementioned title.
Many parents have, along with their offspring, found those "aha" moments in Anna's other list of book titles: Llama Llama Mad at Mama, Llama Llama Holiday Drama and Llama Lama Misses Mama.
These perfect read aloud books cause a prickle of recognition and a fresh look into the many common ritualistic loosening of ties we share with our children in their inevitable march toward independence.