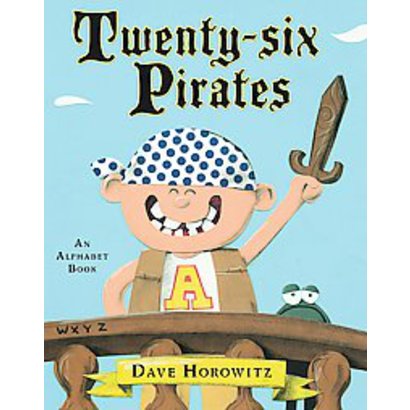 Twenty-Six Pirates
By Dave Horowitz
In Greenport, Long Island last weekend the yearly and long standing Maritime Festival was held. It celebrated the whaling village origins of this wonderful town on the North Fork. No, it is not the Hamptons! But the Festival does celebrate in great style the perfect complement of the farm to table atmosphere there and the bounty from the sea that enriches both North Fork homes and restaurants.
At The Maritime Festival, you can see PIRATES sauntering down the street in boots, bandanas and full pirate regalia as they mix with the would be maritime mariners all weekend. Kids are wide eyed and quite taken with this parade of pirates which put me in mind of Dave Horowitz's great counting and alphabet book, celebrating the pirate life, called "Twenty-Six Pirates."
Starting with Pirate Arty who is "first to the party" and ending with Pirate Zach, "The final attack", each pirate wears his first name letter in a prominent place on his wardrobe. Pirate Roy does karate and is a "dangerous boy", AND his R is proudly displayed on his black, natch, shirt! Pirate Quaid is "Not afraid" as a squid with tentacles rivaling those of the creature from Jules Verne's "Twenty thousand Leagues Under the Sea", tries to hop aboard ship! Quaid has the letter Q dangling about his neck! My favorite is Pirate Paul who does "cannonballs"; not the iron kind, but the swimming, splashy kind, off the deck of the pirate ship. He too wears a red pirate hat as he plummets off the side. He sports a P right in the middle of his hat.
This book has definite boy appeal with one or all of the twenty-six pirates sure to grab the attention of your young reader and at the same time help them remember those building blocks of reading – the famous twenty-six letters of the alphabet.
If you have a girl who loves pirates, she's sure to want to join the fun. If not, easy solution: try "Twenty-Six Princesses", also by Dave Horowitz. "The Bulletin of the Center for Children's Books" said,  "button-nosed and occasionally buck-toothed princesses are delightfully devoid of sophisticated glitter and glam… No availability of orthodonture in the days of "Treasure Island", eh? No matter. These two books have plenty of wit to "straighten out" your child's interest in the alphabet!